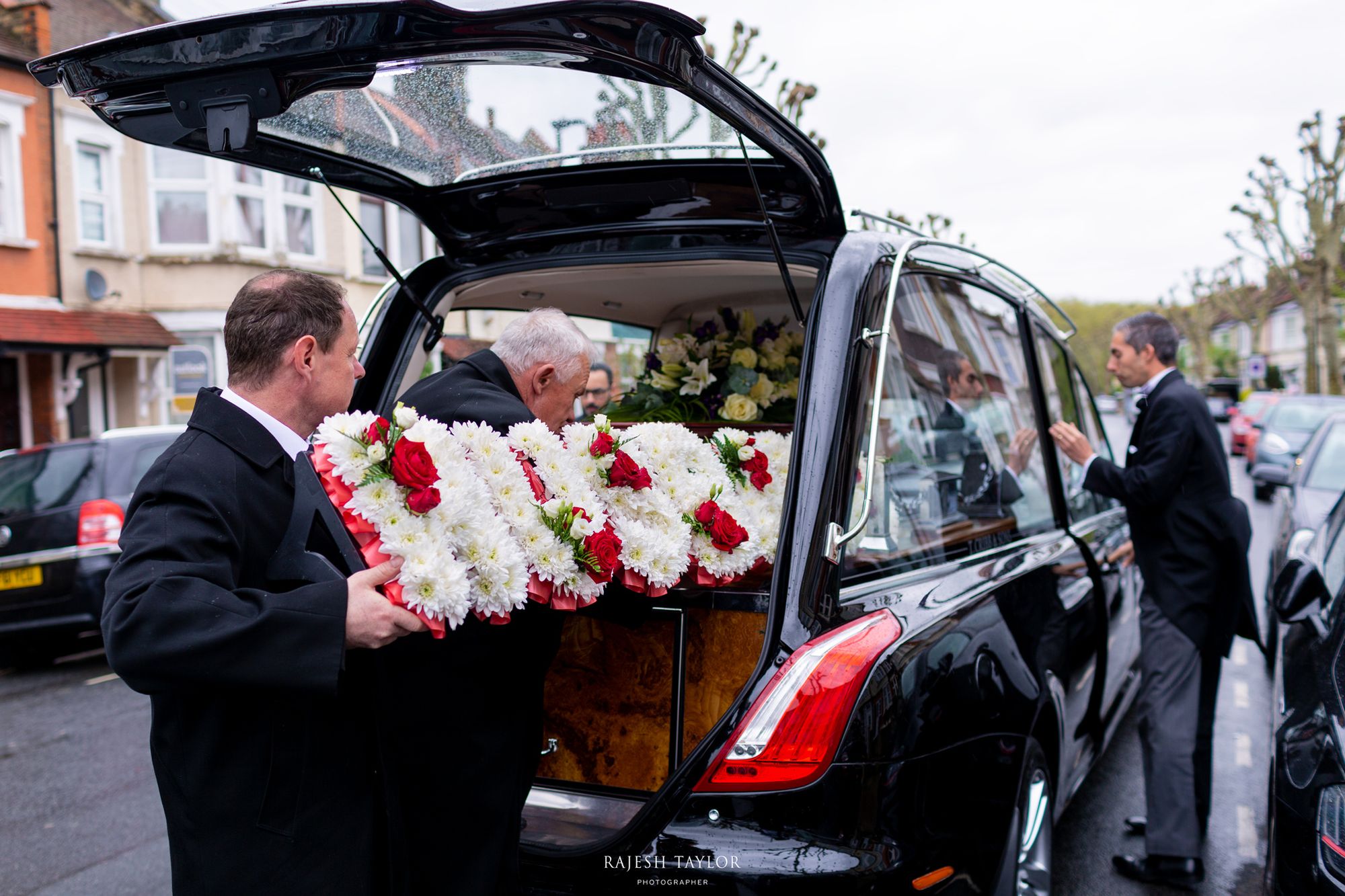 Last month, OneAmerica Insurance CEO Scott Davison revealed in a video call he had witnessed a 40% increase in death rates in 18-64 year olds – and not just at OneAmerica. He noted the majority of deaths were not classified as due to Covid-19.
The Covid-19 vaccines are linked to the excess mortality, and months of vaccine injury reports are now spilling over to actuarial data – is beginning to show. Young, working-age people began dying in greater numbers the same time vaccine mandates were rolled out.
Edward Dowdfn former Blackrock Fund Manager spent the following 4 weeks analysing data associated with a rise in excess mortality versus pre-pandemic levels and observed 3 worrying findings:
• Mortality worsened in 2021 vs. 2020 despite widespread vaccination rollout.
• A spike in deaths amongst 18-64 year-olds coincided with vaccine mandates.
• That spike in deaths peaked in Q3 2021 when Covid deaths were extremely low.
Insurance Firm Unum Payouts Increase 17% from 2020
On 1st Feb 2022, UK based financial insurance company Unum reported an increase of 9% in their ratio of payouts versus premiums, a 17.4% increase in 2021 vs. 2020 despite widespread vaccinations and a 13.3% increase on 2019.
US Funeral Carriage Service Profits Rise 28%
A day later, Dowd noted US funeral home company Carriage Services saw a 28% increase in September 2021 versus 2020 and a 13% increase in August versus the same period. Funerals and cremations are up 12% and 13% respectively on the quarter.
Lincoln Financial Group Reports Increase in Deaths from 2021
Dowd also noted that Lincoln's death claims are up 13.7% year on year and up 57% in Q4 versus 2019. CFO Randy Frietag explained, in 2021 the share of young people dying from Covid doubled in the second half of the year.
Lincoln reported greater losses from Group Protection operations of $115 million in 4Q compared with a loss of $42 million in 4Q 2020.

"This decrease was primarily driven by higher mortality and morbidity impacts related to the pandemic."fn Losses from disability in 4Q was recorded at 90.2% – a rise from 77.7%.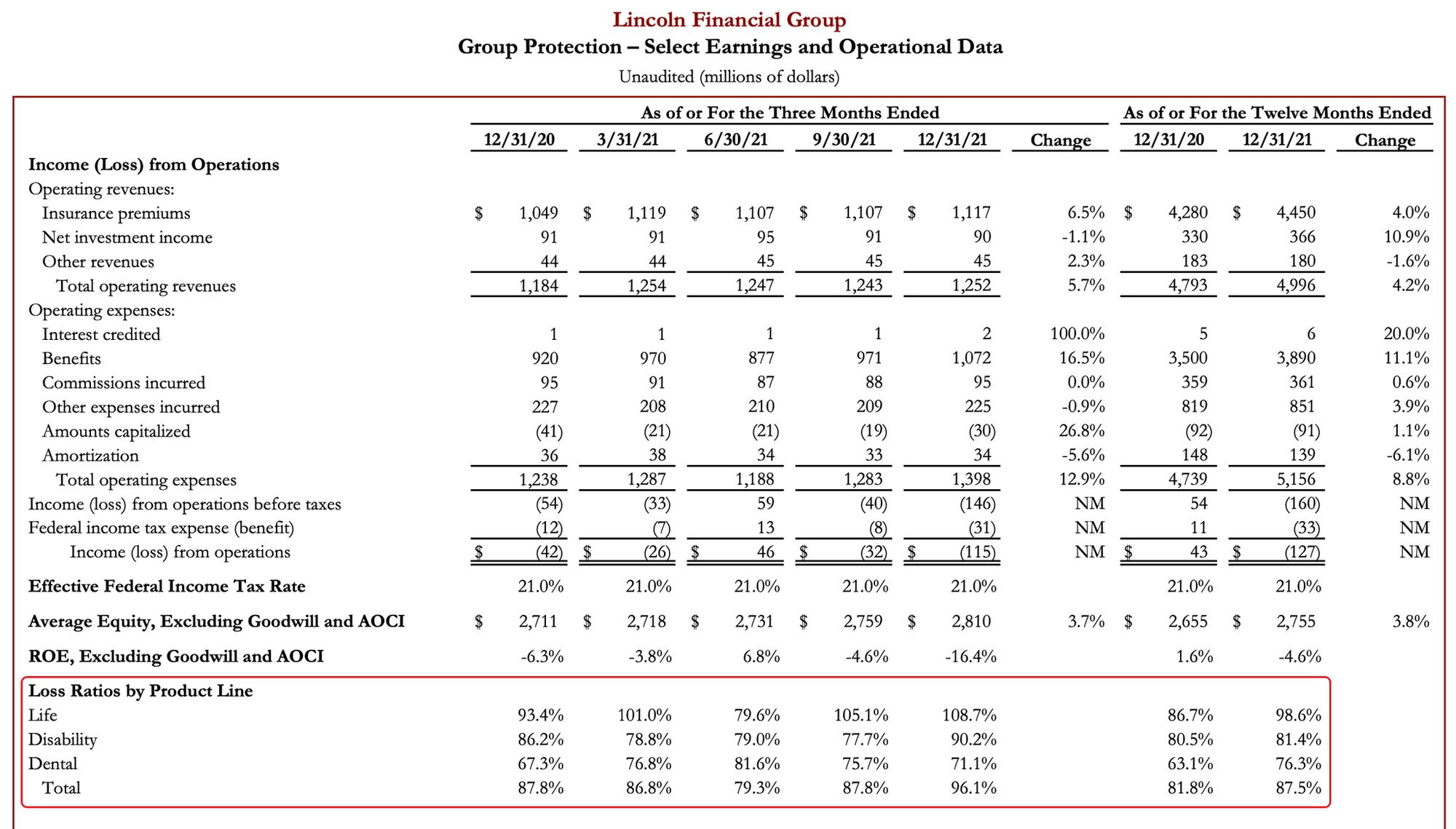 "This shouldn't be happening with miracle vaccines in the working age population and mild Omicron" says Edward Dowd. Their Q4 earnings report can be downloaded below.
Reinsurance Group of America Witness Higher Mortality Rates
Reinsurance Group of America (RGA) noted in their earnings callfn that 4Q was impacted by a meaningful level of Covid-19 mortality claims despite the fact that Covid-19 vaccines have been around for over a year.
RGA missed their $0.77 estimate and prior year's $1.19 with a loss of -$0.56 due to higher than expected $3.95 pre-tax Covid related claims.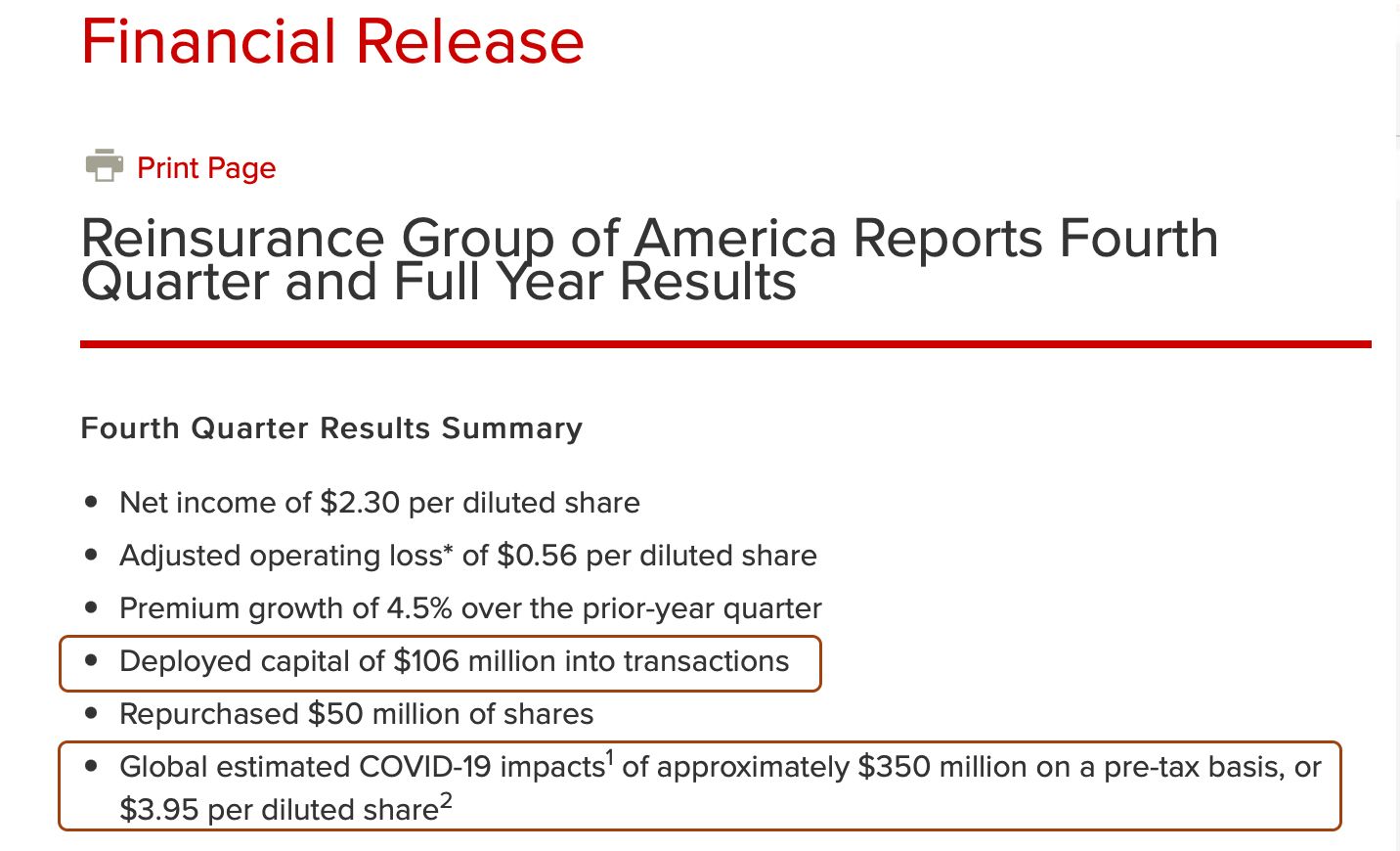 RGA reported a profit in Q4 2020 when the most of the population was unvaccinated and amid a deadlier strain of Covid-19, yet they clocked a loss in Q4 2021 with more than 60% of the country fully vaccinated and around 75% who have received at least one dose. Their 4Q slide presentation to investors and supplementary report is below:
Hardford Insurance Group
Also noting a spike in younger deaths which peaked in Q3 2021, is Hardford Insurance Group, which reported that mortality is up 32% from 2019 pre-covid levels, and 20% from 2020 pre-vaccine levels.
Dr. Robert Malone, Virologist, Immunologist and Inventor of mRNA technology (and holder of 6 mRNA patents) noted the troubling data on 3 Feb 2022.
At the time of writing Pfizer actively fught to suppress research datafn submitted to the FDA for approval, whilst continuing to have legal immunity from vaccine injuries.
• Rise in stillbirths, miscarriages and abortions post here.
• Further Observational posts here.
Subscribe here to receive the Journal Newsletter and join the Member Discussion below. Thank you, Rajesh.