News today that Nigeria could be facing an environmental disaster as a floating, production and storage vessel "Trinity Spirit" carrying 2 million barrels of crude exploded.fn
The incident occurred on Thursday morning at the Ukpokiti Oil Field off Nigeria's coast. 10 crew members were believed to be on the ship at the time of the explosion – no one has been accounted for. Scenes of the incident show the vessel engulfed in flames were captured.
Deep state 'Goldman Sachs' now expects brent crude oil to hit over $100 with soaring demand and shrinking stockpiles. It is the second disaster affecting Nigeria. A huge oil spill developed when a disused capped wellhead released 20,000 barrels of oil a day for a month. The tanker's oil spill is the fourth major spill already this year.
There have been similar disasters in Ecuador, Peru and Thailand. I wonder if that dangerously rotten ship off the coast of Yemen will be next?
The cost of petrol and diesel will rise still further. The cost of everything – including food, clothes, manufacturing equipment – will continue to rise. Inflation will soar. In real terms it is running at least running 12-16% minimum in the UK and US.
The world economy will crumble. Jobs will be under threat. Bankruptcies even in multinational companies will go up. How very, very convenient.
At the Pump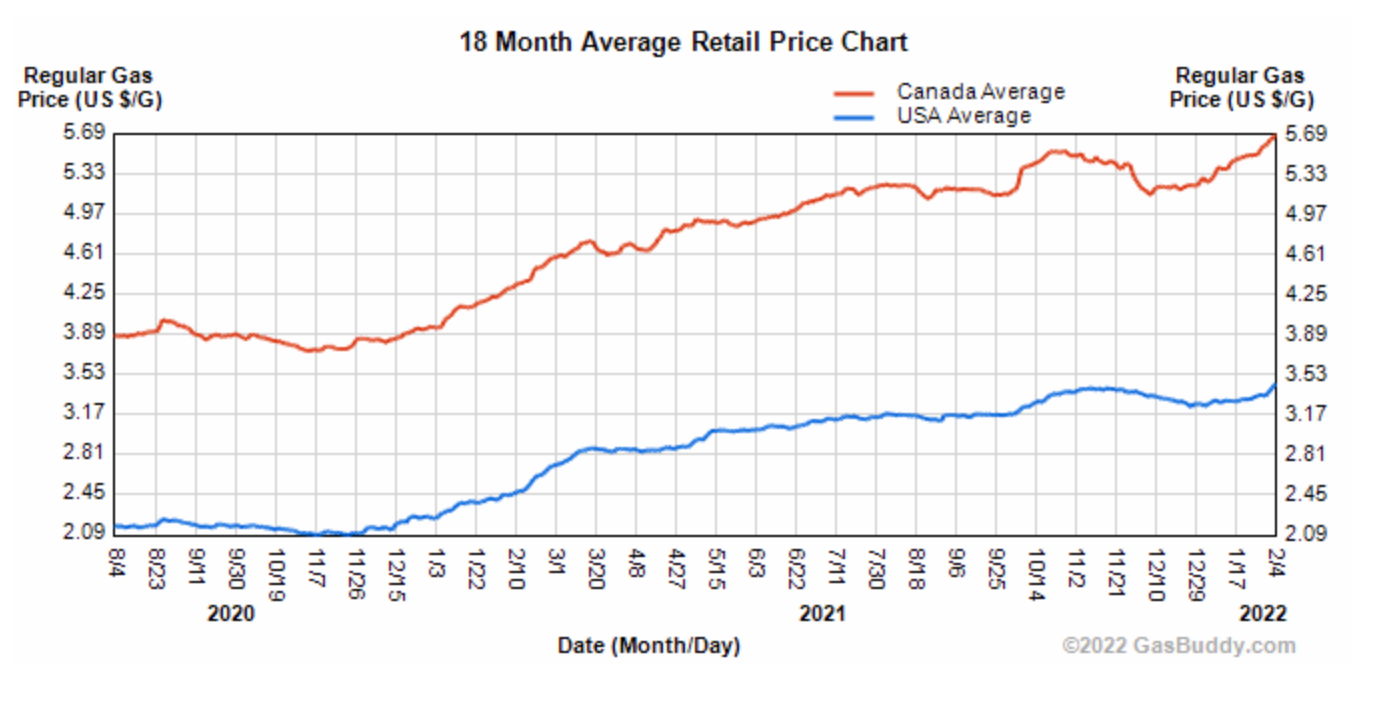 The average US and Canadian is now paying 40% more at the pump, now as much as UK citizens. Californians, who have the highest gas prices in America, are paying 60%+ since the November 2021 US elections.
The Bank of England warned take-home pay would fall by 5 times less than during the 2008 financial crisis. The corrupt and useless energy regulator Ofgem, announced yesterday for most households the increase will be £693 to £1,971 a year.

The Chancellor responded with a £9 billion of council tax rebates to take the "sting" but admitted Britain would have to get used to higher energy prices. £1.81 billion was spent by the government paying asylum seekers' stay in hotel – £4 million a day.
Mortgage payments in early 2022
The Bank of England confirmed interest rates would rise from 0.25% to 0.5%, which will lead to higher mortgage rates. Some on the committee, pushed for an increase to 0.75%.

Conservative MPs criticised Sunak over plans to increase National Insurance contributions in April by 1.25% both for employers and employees, one branding him a socialist. The Chancellor said the government could not keep energy bills "artificially low" in the face of soaring wholesale gas prices, adding that to do so would be "dishonest".
He is either an idiot, badly informed or lying. Not good signs for a future plant from the parallel deep state government as Prime Minister.
Britain's energy problems can largely be traced back to then Energy Secretary Ed Miliband's Climate Change Act of 2008, which legally committed Britain to cut carbon emissions by 80% by 2050.
In 2019, then Prime Minister Theresa May upped that target to going Net Zero by 2050. Boris Johnson, thanks to handler/wife has maintained that goal. As coal plants continue to close, the switch to electric and inefficient, heavily taxpayer subsidised renewables means we import more. An audit of the energy we don't need to be importing reveals the huge reserves we should be using to avoid this engineered energy crisis.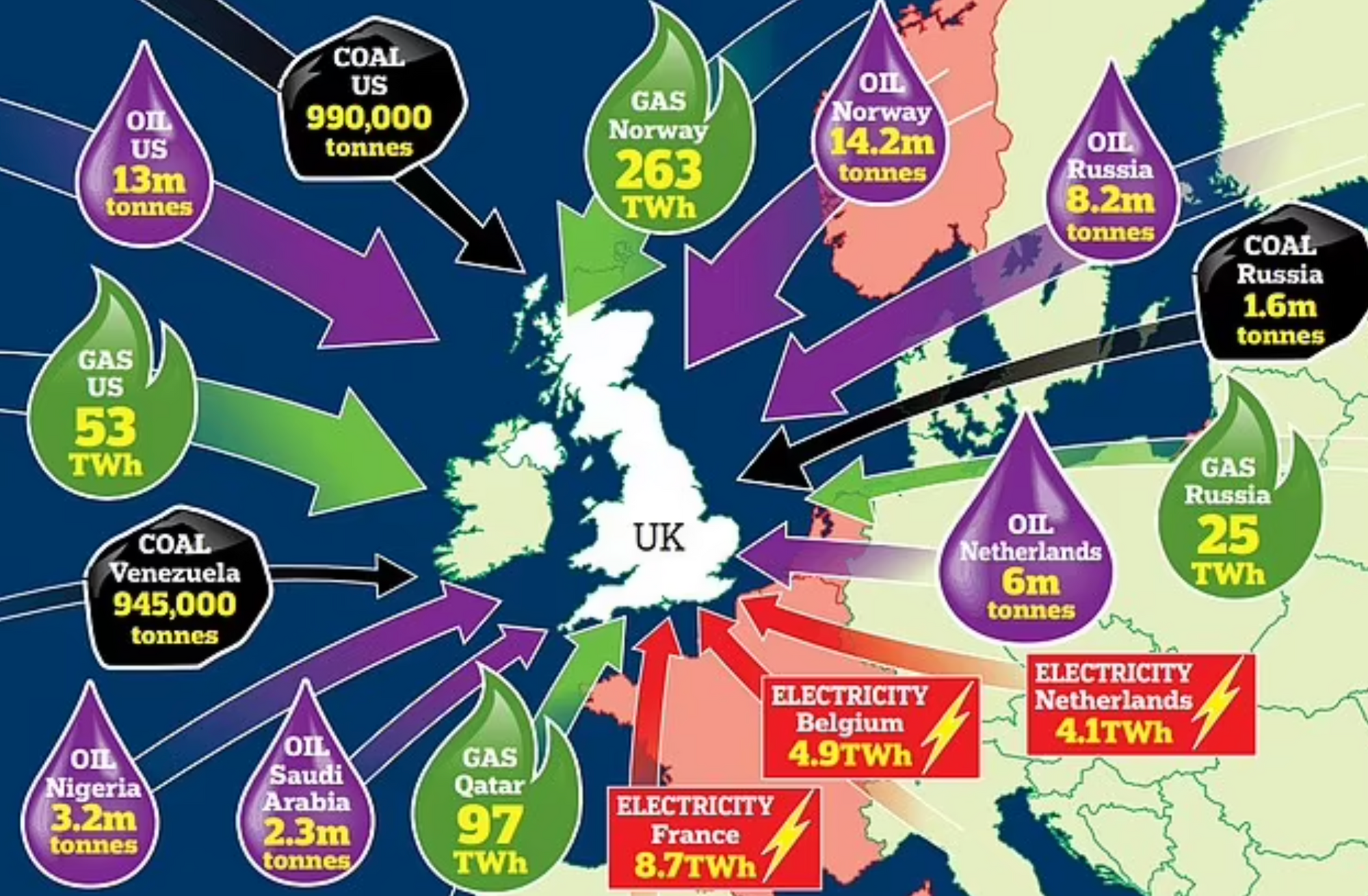 Where Does the UK Import its Energy From?
Coal
The Government pledged to phase out the last coal-fired power station by 2024, yet for now we are still heavily dependent on coal when wind and solar power fail. In 2020, 45% of that coal was imported – in spite of Britain sitting on several hundred years' worth of reserves.
We imported 4.5million tonnes of coal in 2020. Some 2.4million tonnes of that was steam coal used in power stations and 2.1million tonnes was coking coal used for steel production.
🛢️
One tonne of coal is enough to power a home for 100 days.
Russia was the single biggest source of our imports, yes Russia – ships us 1.62million tonnes. The US sent us 990,000 tonnes and Venezuela 945,000 tonnes.
Oil
20 years ago Britain was self-sufficient in oil. No longer. Producing 49million tonnes of oil in 2020 but importing 63.7million tonnes. One tonne is enough to power 500 homes for a day.

Again, this is despite huge reserves under the seas surrounding Britain. The biggest sources of oil were Norway - 14.2million tonnes, the US - 13million tonnes, Russia - 8.2million tonnes and the Netherlands - 6million tonnes.
Gas
In 2020, Britain produced 439 TWh (terawatt hours) worth of gas but imported 478 TWh. For context, about 30 TWh would provide every home in London with electricity for a year.

More than half the imported gas came to us via pipelines from Europe – with Norway sending the most at 263 TWh. We also imported 97TWh from Qatar, 53TWh from the US and 25TWh from Russia.

The Government likes to try to reassure the UK public very little comes from Russia, but that is false. Britain lies at the western end of a European gas grid, powered in large part by Russian gas pipes. If Russian gas was withheld, that cuts off gas from Europe.
Electricity
Britain's generating capacity actually fell by 2.7% in 2020 – despite all the wind and solar farms added. Britain's imports large quantities of electricity from European power stations via undersea cables. In 2020, 8.7TWh came from France, 4.1TWh from the Netherlands and 4.9TWh from Belgium.
Energy Plantation Owners Choose Not to Use
Oil and Gas
The Oil and Gas Authority says 'proven and probable' reserves of oil and gas under the North Sea extend to the equivalent of 5.2billion barrels of oil. Enough to sustain UK production at current levels for the next 20 years.
Shale
The UK has reserves of 140trillion cubic feet in shale. 47 years worth of energy alone. The case is made here.
Coal
According to the trade body Euracoal there are at least 3.9billion tonnes of coal reserves left in Britain – enough for 500 years of energy.
Nuclear
The nuclear industry is wasting away in spite of the construction of the long-delayed Hinkley Point C plant in Somerset. There are now just 6 working nuclear power stations left in Britain. All are scheduled to close by 2035.
Nuclear represents a huge potential energy source. Extremely efficient and with a very low carbon footprint if you're into that. Small modular reactors are a particularly exciting emerging market that could be used for mini-plants.
• The Case for Fracking in the UK here.
• Climate Fraud posts here.
• Latest posts here.
• Corporate Photography sets here.
---
To receive a weekly roundup of new posts subscribe here. Any donations go towards funding research, reporting, independant video servers and growing the site. Thank you, Rajesh.
Bitcoin Wallet: 3Dzp87Gz7EhtQpHSYCBTSMN81GMeCQgAtm
Leave a Paypal Tip