Mayfair
Christmas Celebrations in Shepherd Market with John Cleese
Shepherd's Market was spoiled with Monty Python's John Cleese appearance in 2017. After a short speech, he celebrated with a champagne opening.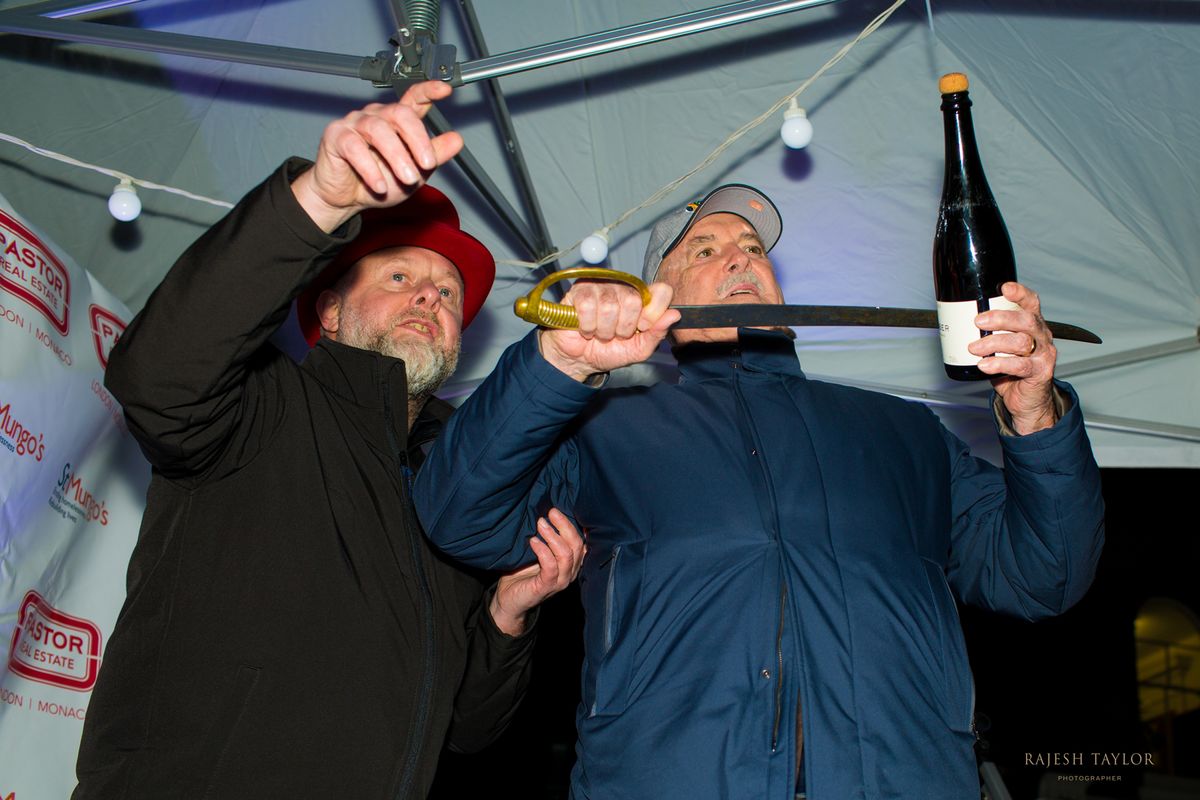 The UK's second month–long lockdown, due to end on the 3rd December – to be replaced with a series of regional lockdowns, puts this year's Christmas festivities at Shepherd Market in doubt.
For the last 10 months, a carcass of small piazza of upmarket bars, small artisan pop-up galleries and restaurants is all that remains. Like most of Mayfair, it heavily relies on international tourism and foot-flow from the nearby five star hotels.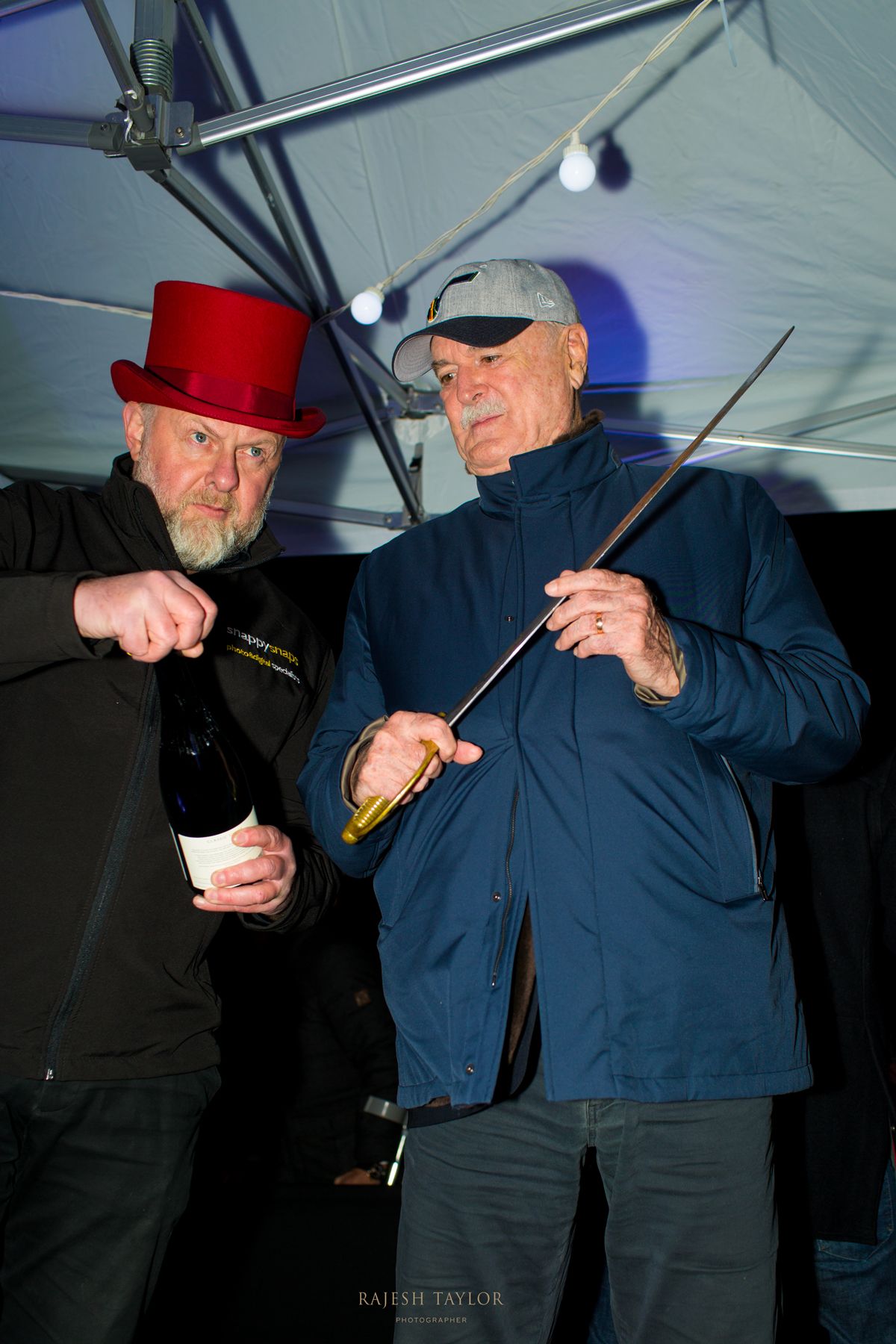 History of Shepherd Market
Mayfair, a small rural area until the early 18th century, took its name from shepherds cattle trading May Fair which occured annually over 15 days from 1st–14th May until 1764. When the Grosvenor Family acquired the land, through marriage, they commissioned a local Architect – Edward Shepherd to develop and gentrify the site with upper-class Georgian properties.
The work was completed in the mid 18th century, along with paved alleys, duck pond, two-storey market and topped with a theatre. Thomas Sulman's illustrative 1880 map has Wharncliffe House, facing Shepherd market opposite on Curzon Street.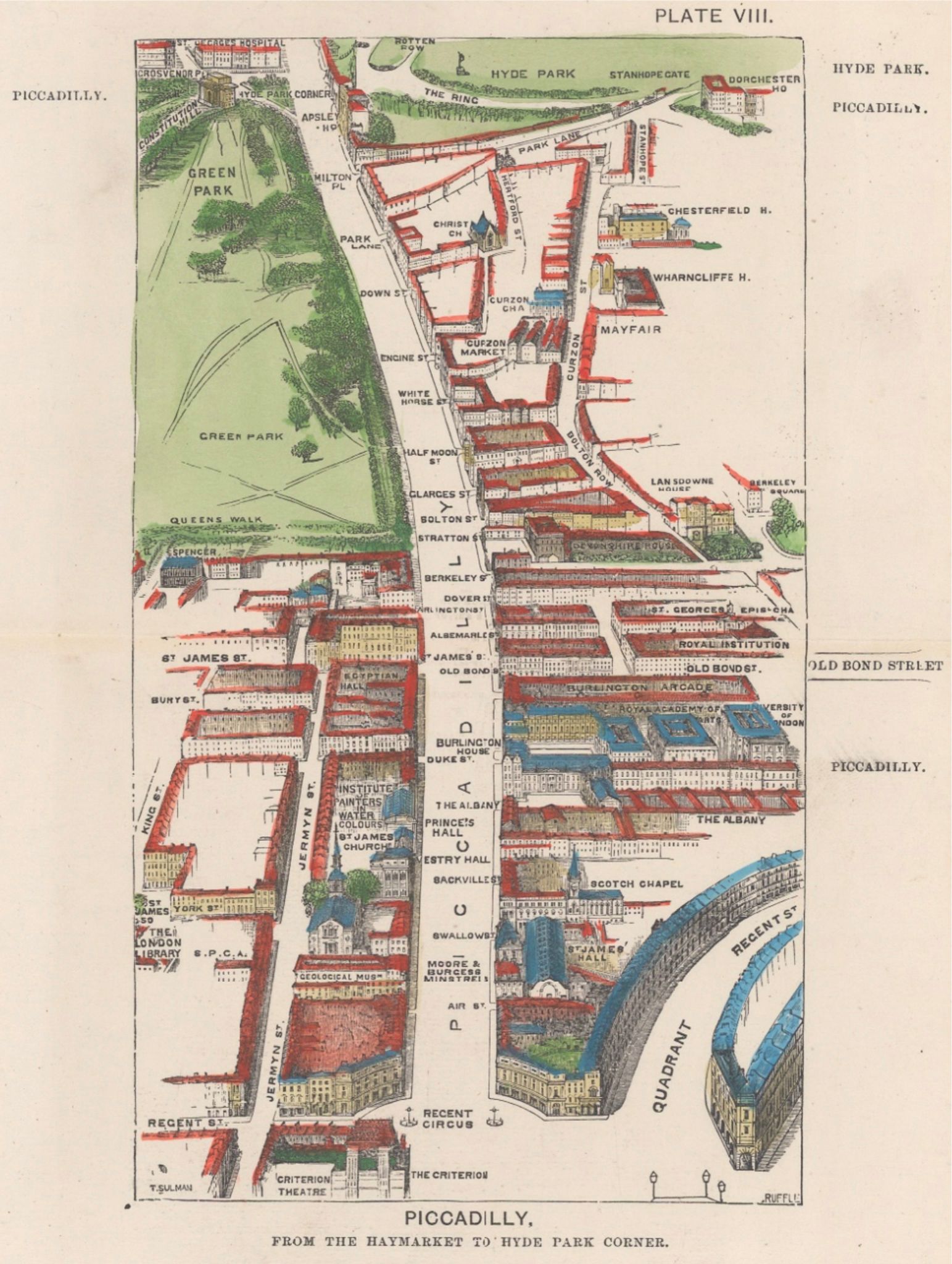 Thomas Sulman's illustrative 1880 map has Wharncliffe House, facing Shepherd market opposite on Curzon Street. This property was also designed by Edward Shepherd who took residence after the work was completed. The building was renamed Crewe House in 1899 when purchased by the Marquis of Crewe from Lord Wharncliffe. Today it is the Royal Saudi Embassy.
The decline of the British aristocracy after the Second World War led to the area becoming... shall we say, more commercially orientated.
Present Day Shepherd Market and Curzon Street
After the War, London which had been battered by Nazi air raids known as The Blitz slowly rebuilt. The 1950's saw some semblence of normality returning. The nostalgic clip below, Shepherd Market represented a perfect postcard of life in Mayfair.
Many grand Georgian townhouses are now converted offices, which make for desirable London headquarters. A Mayfair virtual (vanity) address, still commands around £1,400 per annum. Countless hedgefunds and energy trading firms are registered in this district. From Sulman's engraved map of Piccadilly, most are dotted east of Curzon Street, Clarges Street and north of Berkeley Square.
The proximity of Buckingham Palace and lure of the Private Members Clubs along Pall Mall remains. Although the futures of bespoke tailoring houses of Savile Row and the Shirtmakers, Shoesmiths and other Artisans on Jermyn Street, shown running parrallel to Piccadilly, are being severely tested by the governments' lockdown policies.
Shepherd Market Festive Christmas Lights in 2017
In 2017 the market was spoiled with John Cleeses' appearance, who after a short speech on the French, declared the lights be switched on. After a brief and private discussion with Mr. Red Hat he took his sword to battle with the bottle.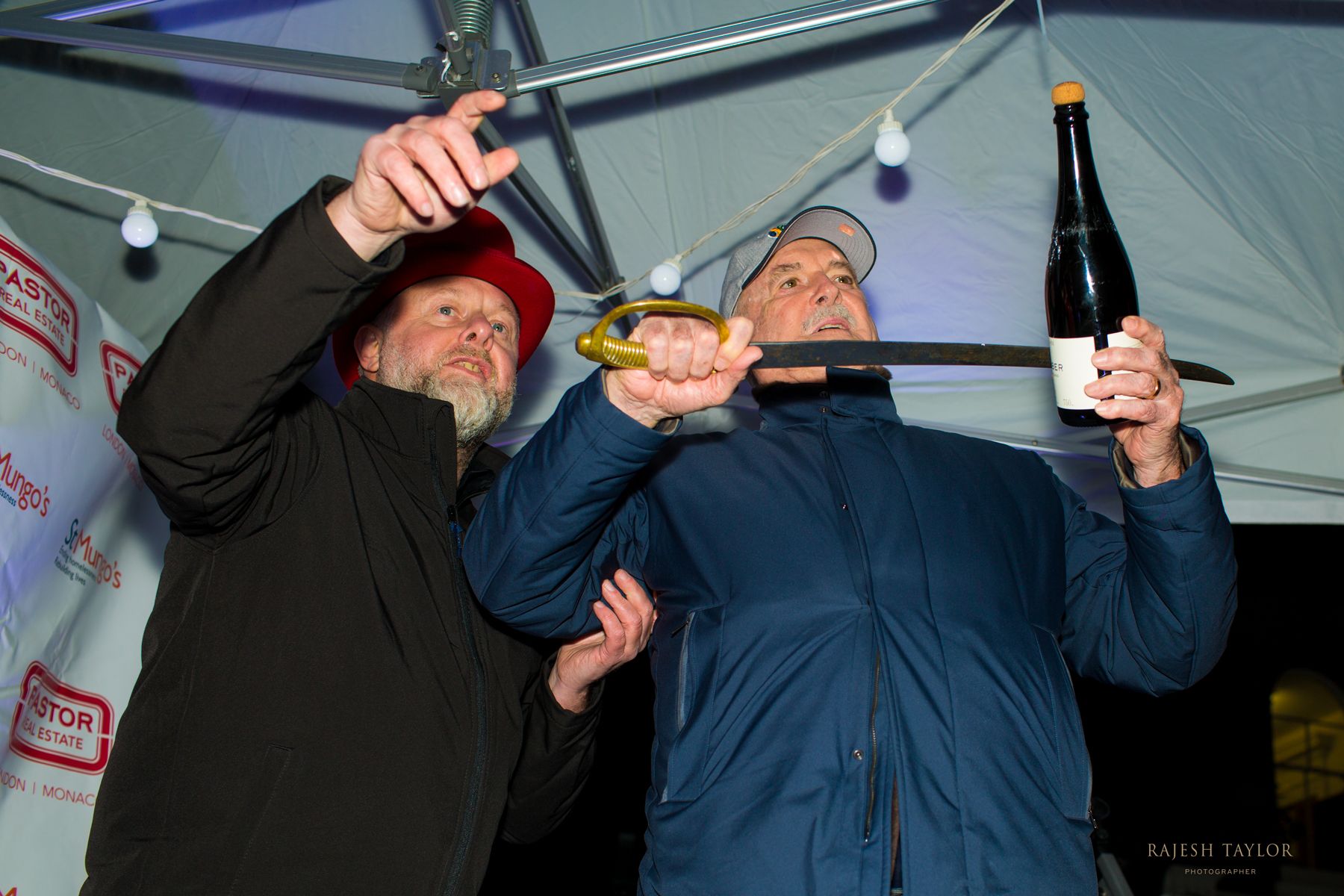 When a second bottle appeared Cleese was most impressed. He asked for a volunteer from the crowd– with Ms Sophie Lew more than happy to oblige.
An expert in sword fighting champagne corks, Ms Lew raised a cheer and an 'oooh' as photographers were drenched...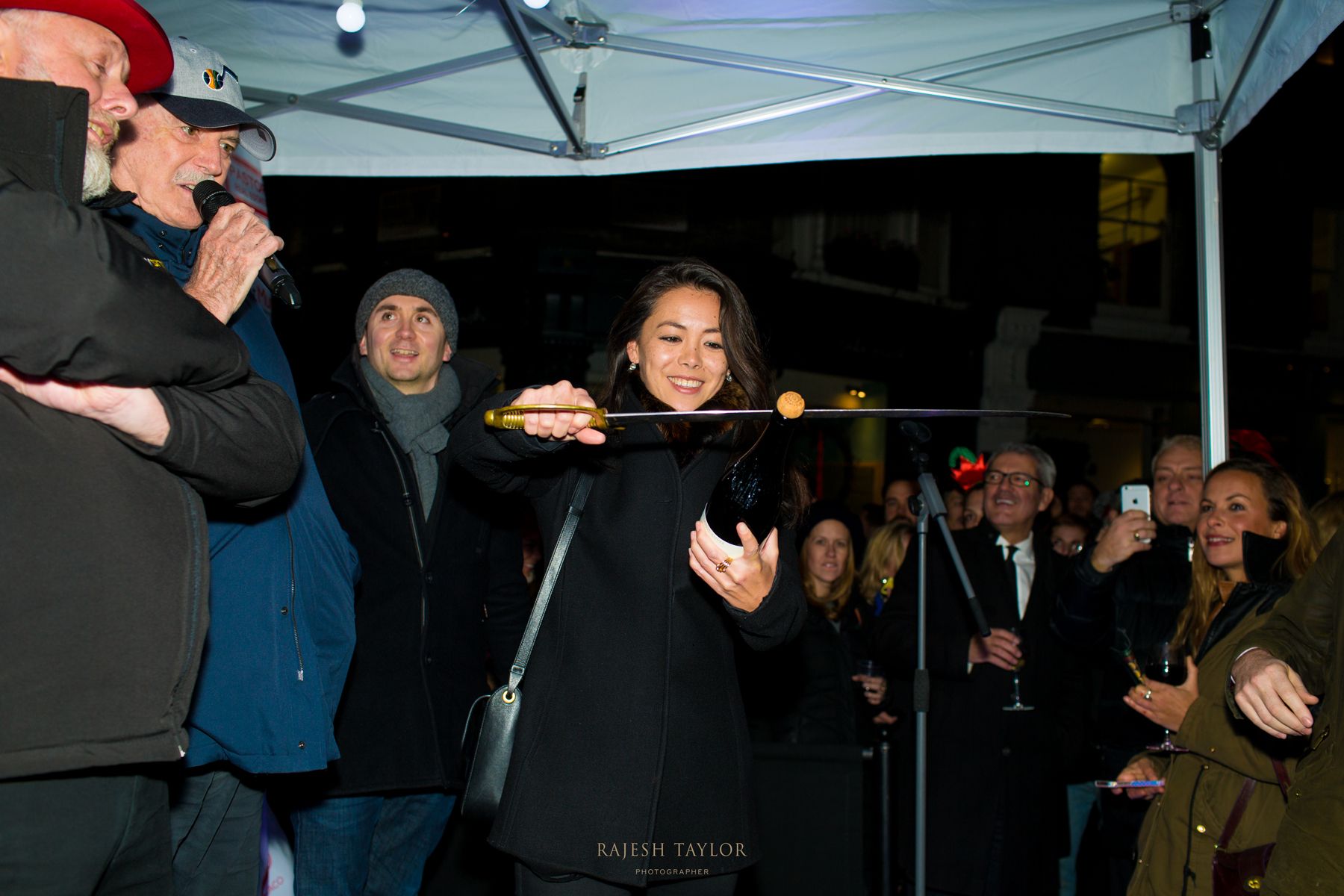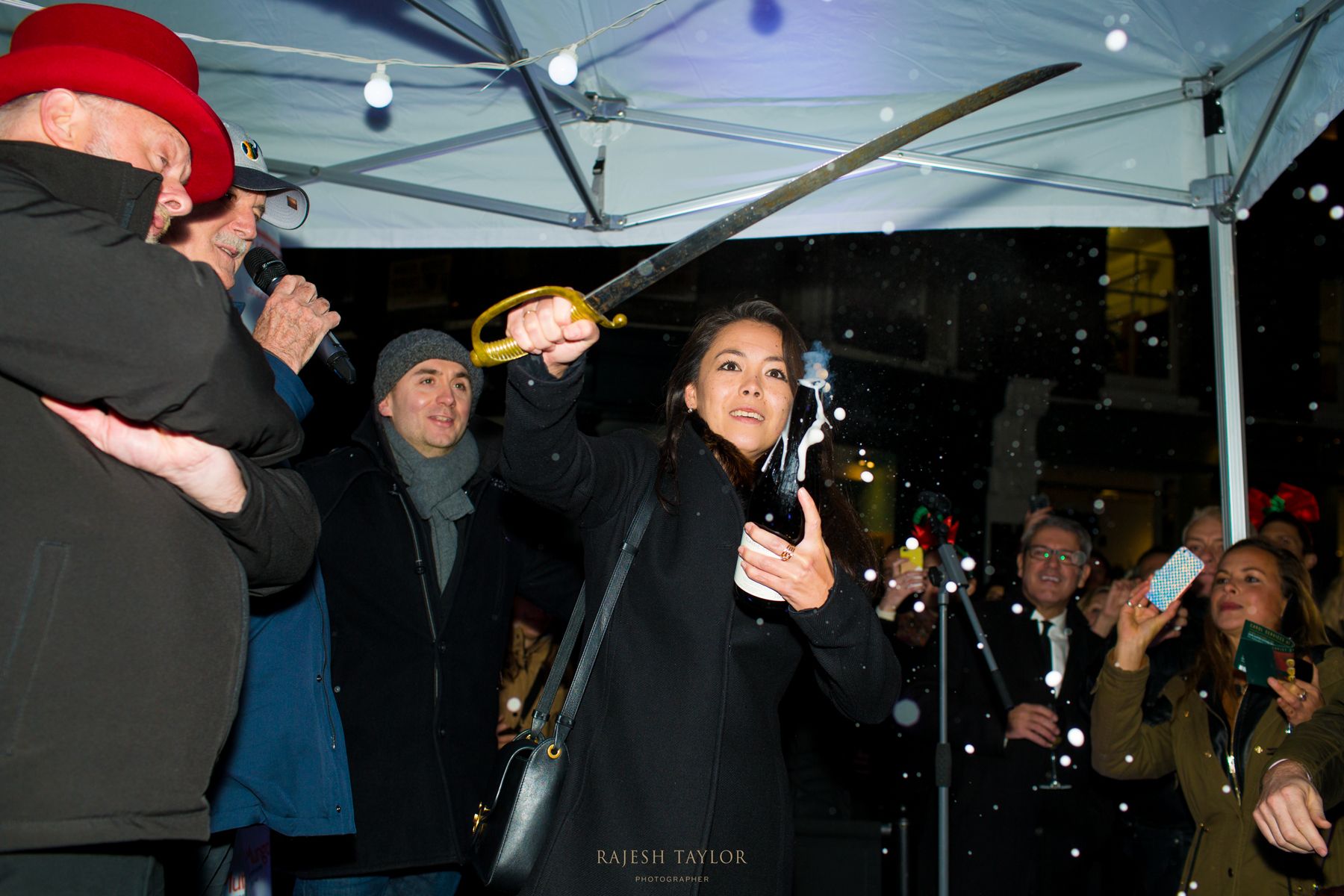 Photography
Tooling
On this festive night I brought along a Canon 5D Camera, Canon 35mm f/1.4 lens and a 50mm f/1.2 lens. Reviewing the image files again after 3 years, the metadata shows I didn't use the 50mm on the night. To illuminate the scene, I used the Godox V860 II speedlite with a Magmod Sphere & Mag Grip to diffuse and distribute the flash's output evenly.
Recommended on assignment in Antigua. This small diffuser has proved far easier to use than other flash modifier with its quick release but secure magnetic grip. With no ceiling to bounce off, I rotated the modifier forward towards the talent on stage.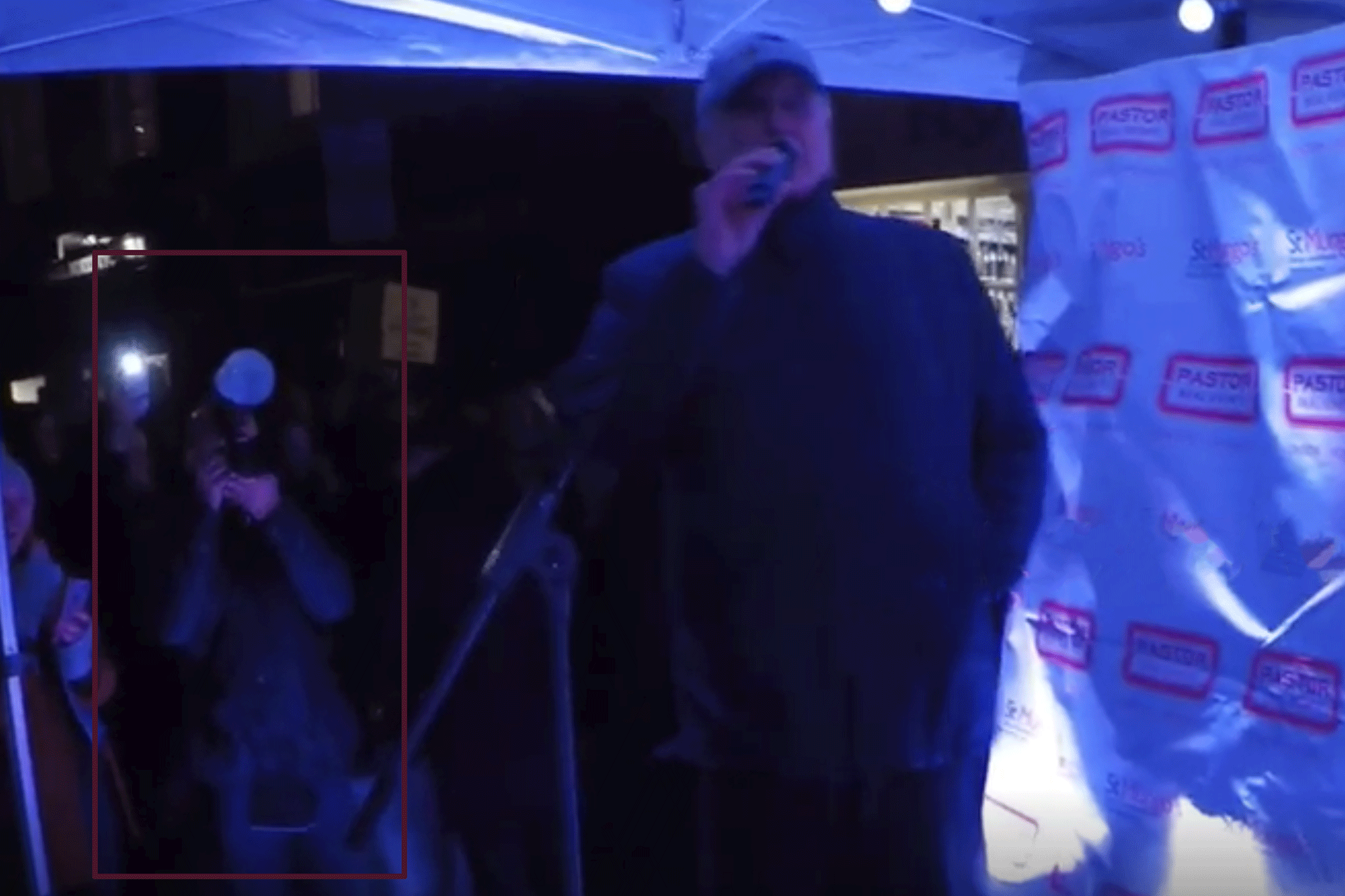 I had the flashpower manually set between 1/16th 1/3, increasing power to 1/8th 2/3 power depending how Mr John Cleese, Mr Red Hat and Ms Sophie Lew moved on stage. View my full photography tool kit here.
Shot Design
The market is tight when crowded after work and with an elevated stage area, even tighter. This would be why the 50mm would be left in the bag. I did however spot several press photographers with 70-200's banked up against William Hill Bookmakers' windows, facing the stage.
I had reviewed the previous years Christmas Light celebrations with a simple web search. In 2016, Mr Red Hat had guided Austin Power's girlfriend, Elizabeth Hurley along with the champagne bottle and sword, parallel to the crowd. Positioned here would give an opportunity to capture the cork flying off, champagne sprinkling, excited facial expressions and crowd involvement.
---
Modern Scandal's in Mayfair's Shepherd Market
Jeffrey Archer and Prostitute Monica Coghlan – 1986
Shepherd Market was the location where former Conservative Party Chairman and best selling author – Lord Jeffrey Archer met prostitute Monica Coghlan. The encounter, which he tried to cover up in a court of law, led to his imprisonment and stripping of his peerage.
Lord Archer vigorously denied he had slept with Coghlan, sueing the Daily Star newspaper for libel, winning £500,000 in damages. A letter written by Lord Archer's friend Ted Francis, gave him an alibi for the night in September 1986, was never used during the 1987 trial. But the letter became significant 12 years later when Mr Francis admitted its contents were false.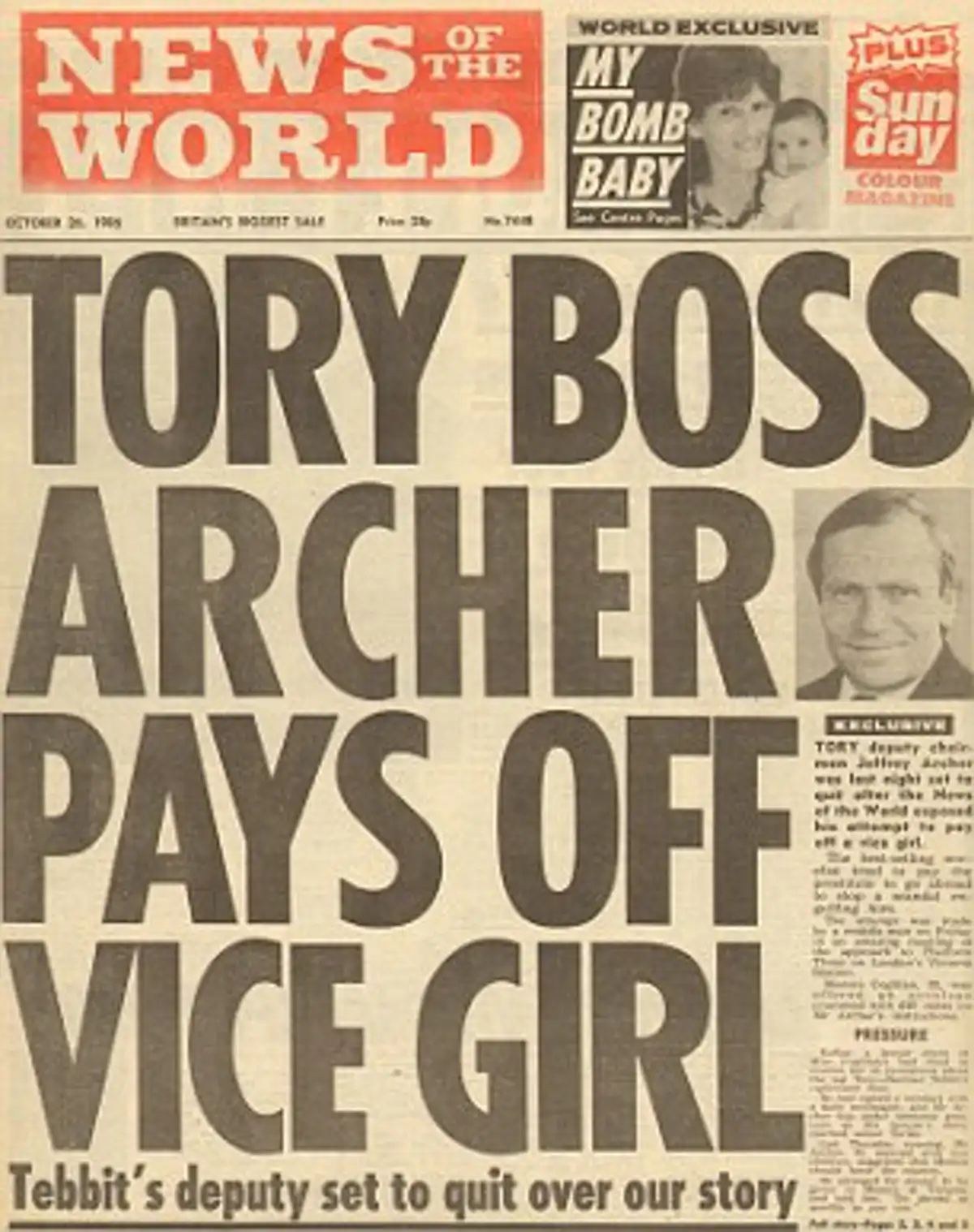 The scandal resurfaced when Lord Archer launched his campaign to become London Mayor. By this time Ted Francis had fallen out with Lord Archer. He said he "disapproved of the idea of Jeffrey Archer becoming Mayor of London". In November Mr Francis told the News of the World Newspaper that Archer had asked him to provide a false alibi ahead of his Daily Star libel hearing.
Mr Francis said he did this believing it was to help save Lord Archer's marriage. In the resulting furore Lord Archer stood down as candidate for London Mayor and admitted he had asked Mr Francis to cover for him. The Daily Star demanded the return of £500,000 in damages. As a result of the revelations the police began a perjury investigation.
Archer faced seven charges in total - four of perverting the course of justice, two counts of perjury and one of dishonesty. As the trial got underway, the jury heard how Archer asked his secretary to make false entries in a bogus diary for the 1987 trial. Taped telephone conversations were played in which he admitted he did not have the 'alibi dinner' with Ted Francis were played to the court. Archer was jailed for four years.
His wife Mary Archer, has since been made a Dame.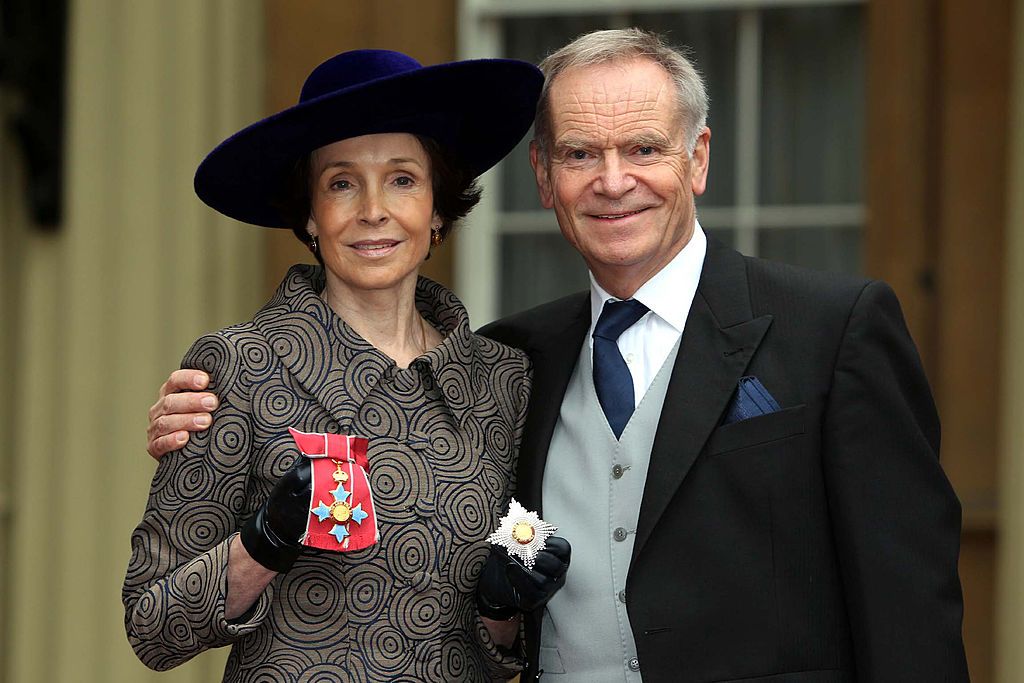 Sir Martin Sorell – 2018
Several months after Christmas festivities, I read Shepherd Market was the location of the Mayfair brothel at the heart of the 2018 Sir Martin Sorrell scandal. Run from a flat owned by the Family Trust of the 7th Earl Howe no less, the former Defence Minister, now Deputy Leader of the House of Lords.
Curzon Street was given its name through his great-great grandfather, George Howe, 3rd Viscount Howe from the House of Curzon. Before this time, the street was called Mayfair Row.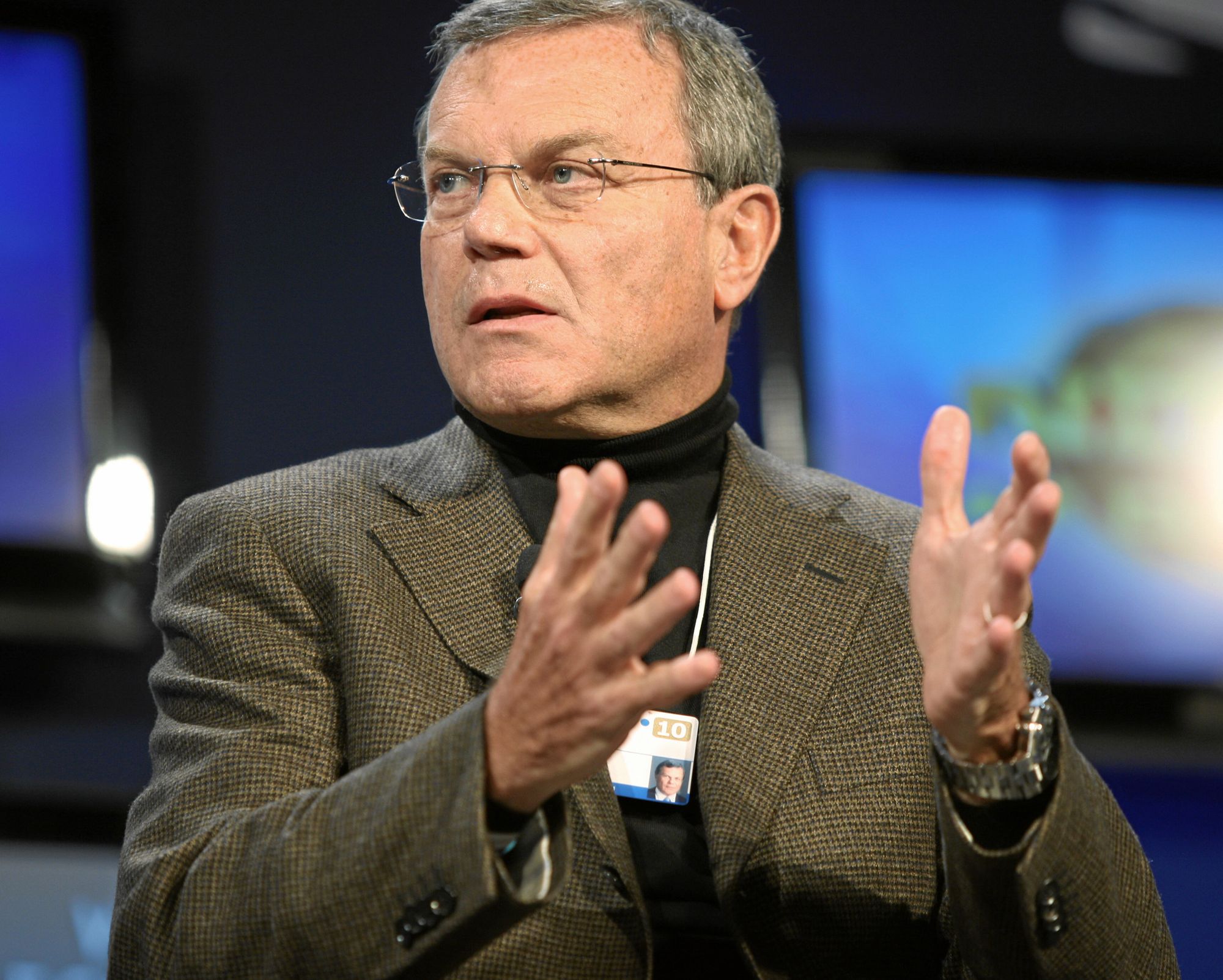 The Daily Mail reported a woman working at the brothel claimed it had operated in the same property for around a century. Sorrell, then CEO and founder of WPP, the world's largest Advertising and PR Group was said to have been spotted by two of his employees whilst drinking in Shepherd Market, going into flat 50A.
It led to an investigation by WPP into alleged 'personal misconduct', possible misuse of company funds and ultimately resulted in his resignation as Chief Executive in April 2008. He consistently denied all the allegations.
Howe Settled Estates Trust has owned the flat above William Hill Bookmakers at 50A Shepherd Market, one of 51 Mayfair properties worth many tens of millions of pounds for centuries. Land Registry records show twenty have since been sold for a combined revenue of £46million.
Earl Howe, known for introducing Investigatory Powers Act in 2016, referred to as The Snoopers Charter. The Bill, granted government to require a company to remove encryption. In some circumstances, to force a communications service provider not to use end-to-end encryption to secure a future service they are developing.
Crazy scenes in Lords this evening on #IPBill. Govt wants decryption capability but can't see risk of bad actors using it too. Unbelievable.

— Paul Strasburger (@LordStras) July 13, 2016
Always an interesting time in Mayfair...
Locations of Interest near Shephard Market
• Cass Elliot from The Mamas and Papas died from a heart attack in 9 Curzon Place in 1974.
• Four years later, Keith Moon, bonkers Drummer from The Who died from a drug overdose in the same flat.
• Former Headquarters of MI5 from 1945-76, Leconfield House, 1-4 Curzon St.
• Ian Fleming mentions Eucris from Gentleman's Barber Geo F. Trumper of 9 Curzon St in On Her Majesty's Secret Service when Bond visits Marc-Ange Draco.
• The Saudi Embassy, formerly Wharnecliffe House, later Crewe House is on 15 Curzon St.
• Former UK PM Benjamin Disraeli in 1868 & 1874-80, lived at 19 Curzon St.
References:
• Frederick Curzon, 7th Earl Howe: Wikipedia
• Mayfair brothel at the centre of the Martin Sorrell scandal ran from a flat owned by Defence Minister Earl Howe's Family Trust: Daily Mail
• WPP Probed Whether Former CEO Martin Sorrell Used Company Money for a Prostitute Wall St Journal
• HM Land Registry, House Price Data
---
To receive a weekly roundup of new posts subscribe here. Any donations go towards funding research, reporting, independant video servers and growing the site. Thank you, Rajesh.
Bitcoin Wallet: 3Dzp87Gz7EhtQpHSYCBTSMN81GMeCQgAtm
Leave a Paypal Tip