A "Load of Bollards" guide with London's silent guardians – and their nearest pub.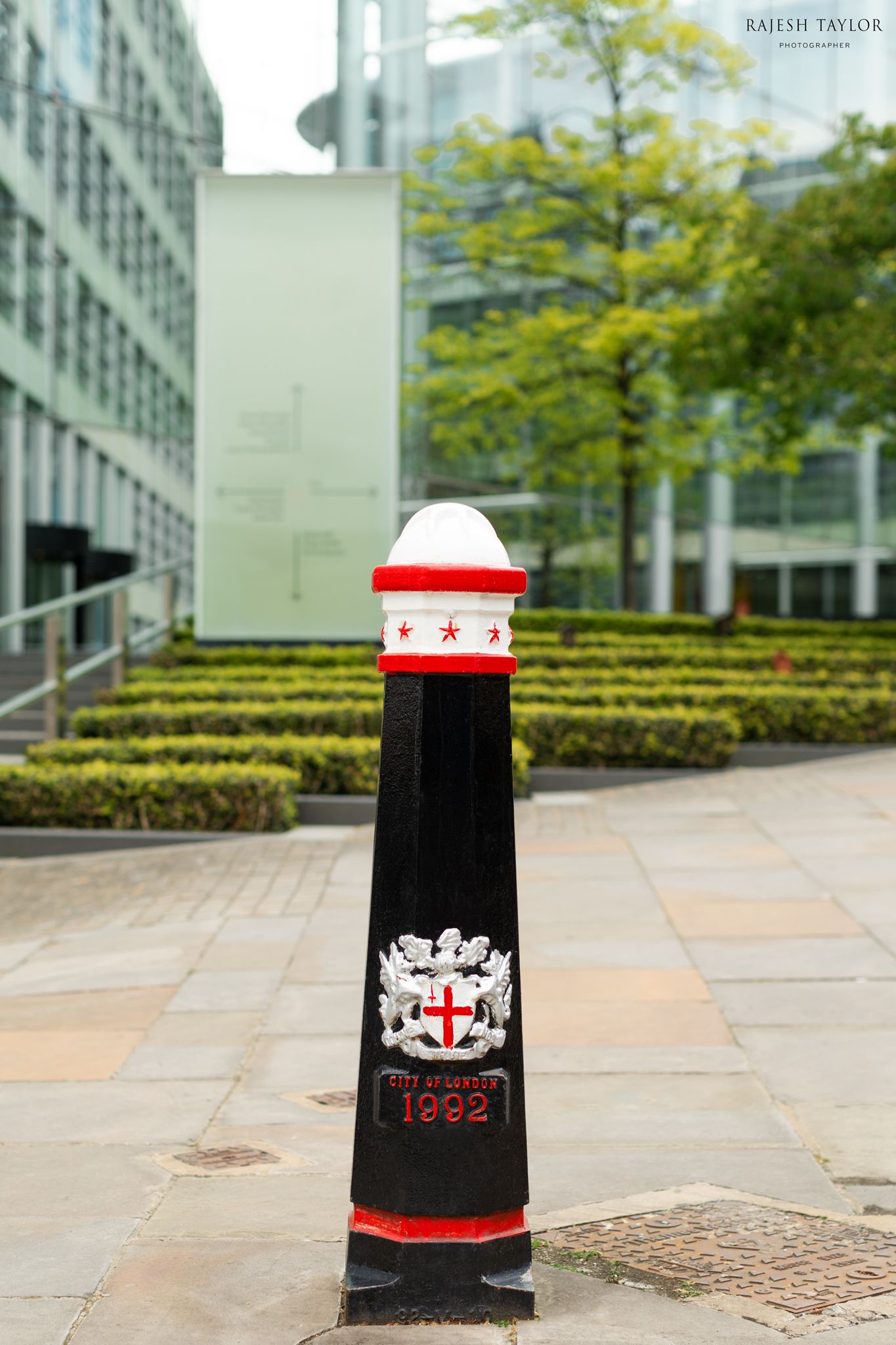 This Dark Knight is one of four that stand in front of the Tower Place Corporate Building. Painted in the City of London's trademark colours, they would defend office workers and visitors of the oldest Church in London – All Hallows by the Tower (AD 675) from Uber drivers looking to shave several minutes off traffic.
The four "shallow mount" bollards below were manufactured by AKG Access who's testing methods include ramming 7,500kg lorries into them at 30mph.
Tower Vaults
These vaults are not associated with the ancient fortress. It was originally an eight-storey warehouse storing shipments of tea from Asia from the late 1800's. It was bombed during Second World War. Only three levels survive today.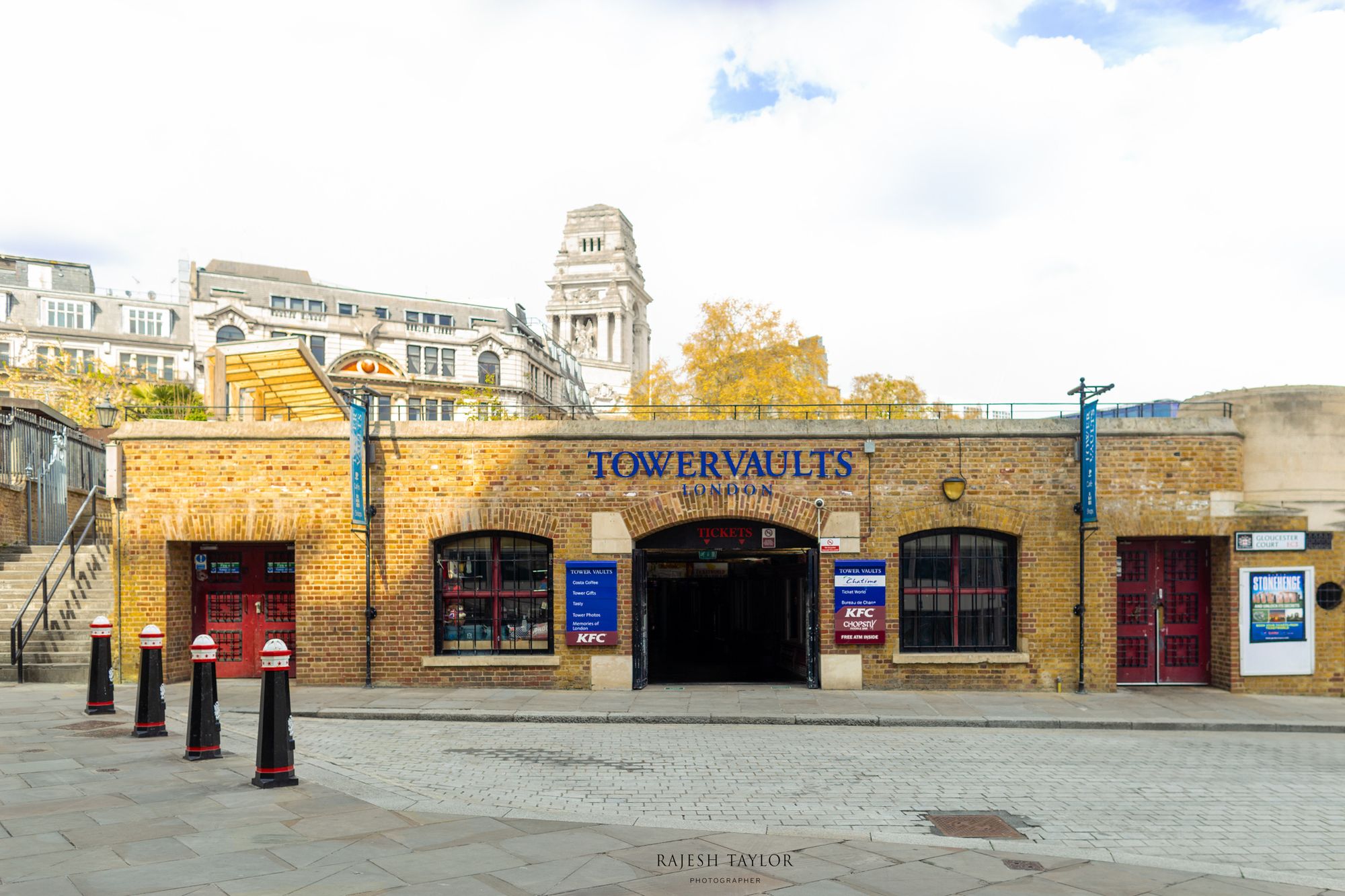 The elevated terrace has views of a Costa Coffee, just out of shot. Perfectly blocking The Tower and Tower Bridge. Ground level is home to a small shopping arcade, not too dissimilar to Jermyn's Street's Piccadilly Arcade, though not occupied by shoesmiths or tailors. It was empty when I walked around, apart from Kentucky Fried Chicken.
KFC has gone from strength to strength since Covid-19. The fast food franchise received £2,000,000,000 during a health pandemic from the UK government in October 2020fn to create 5,400 new minimum wage jobs. That is £37,0370 for each "trained" full or part timer working 25 hours a week aged 16-24. Hmm...
Let's take to the skies.
Raven's Report: Gloucester Court
The four ravens below mark our points of interest. The 1895 Ordance Survey map shows how important the docks and shipping industry were to the City.
Raven Ones' beak points to the bollards, formerly Great Tower Street which would split in two as it approached All Hallows Church. Raven Two is at the northeast corner at the 'Site of the Scaffold' execution memorial on Tower Hill.
Raven Three points to the old Tower Subway's Northern Entrance, London's first subterranean tunnel. For conspiracy buffs, I'll leave you to imagine what it may be used for today. Raven Four has the best job, he's at the Hung Drawn & Quartered pub.
Let's go on foot to the site of over 125 beheadings.
Tower Hill's Execution Memorial
Raven 2
For many, the Tower of London is synonymous with beheadings. But only royalty – including Henry VIII's second wife, Anne Boleyn, were executed within the fortress. All other executions took place on a scaffold at Tower Hill.
The social rank of the person dictated how a person would be put to death. Commoners were hung, drawn and quartered. Beheadings were seen as more dignified, less vulgar, faster to... execute. Sir Thomas More was afforded this luxury in 1535, when King Henry VIII "graciously" commuted his sentence from hung, drawn and quartered to just beheading.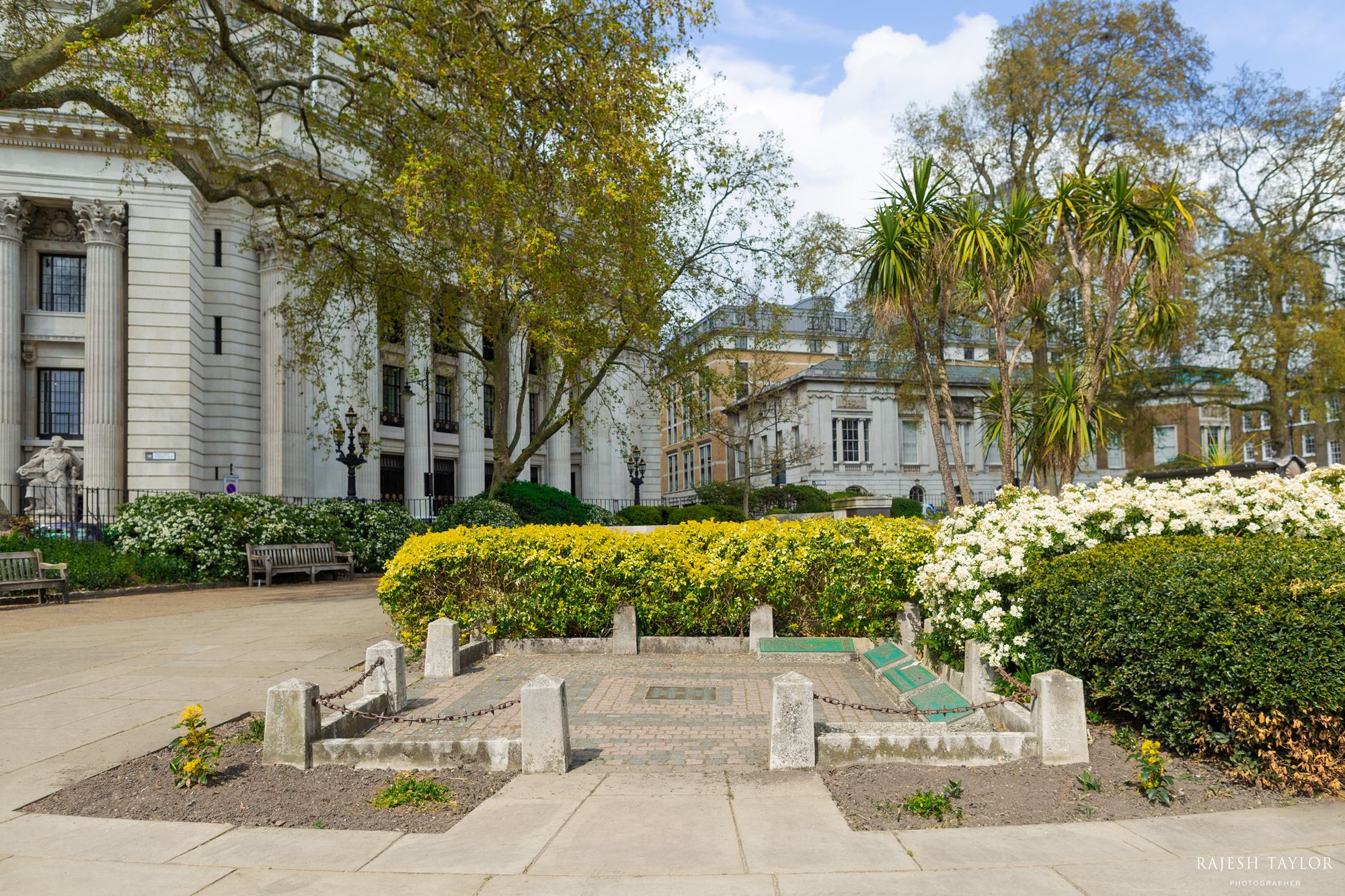 Some famous names of the executed are recorded around the small memorial site. Even Archbishops. William Boyd, 4th Earl of Kilmarnock was a Scottish peer who joined the Jacobite Rising was executed for treason here.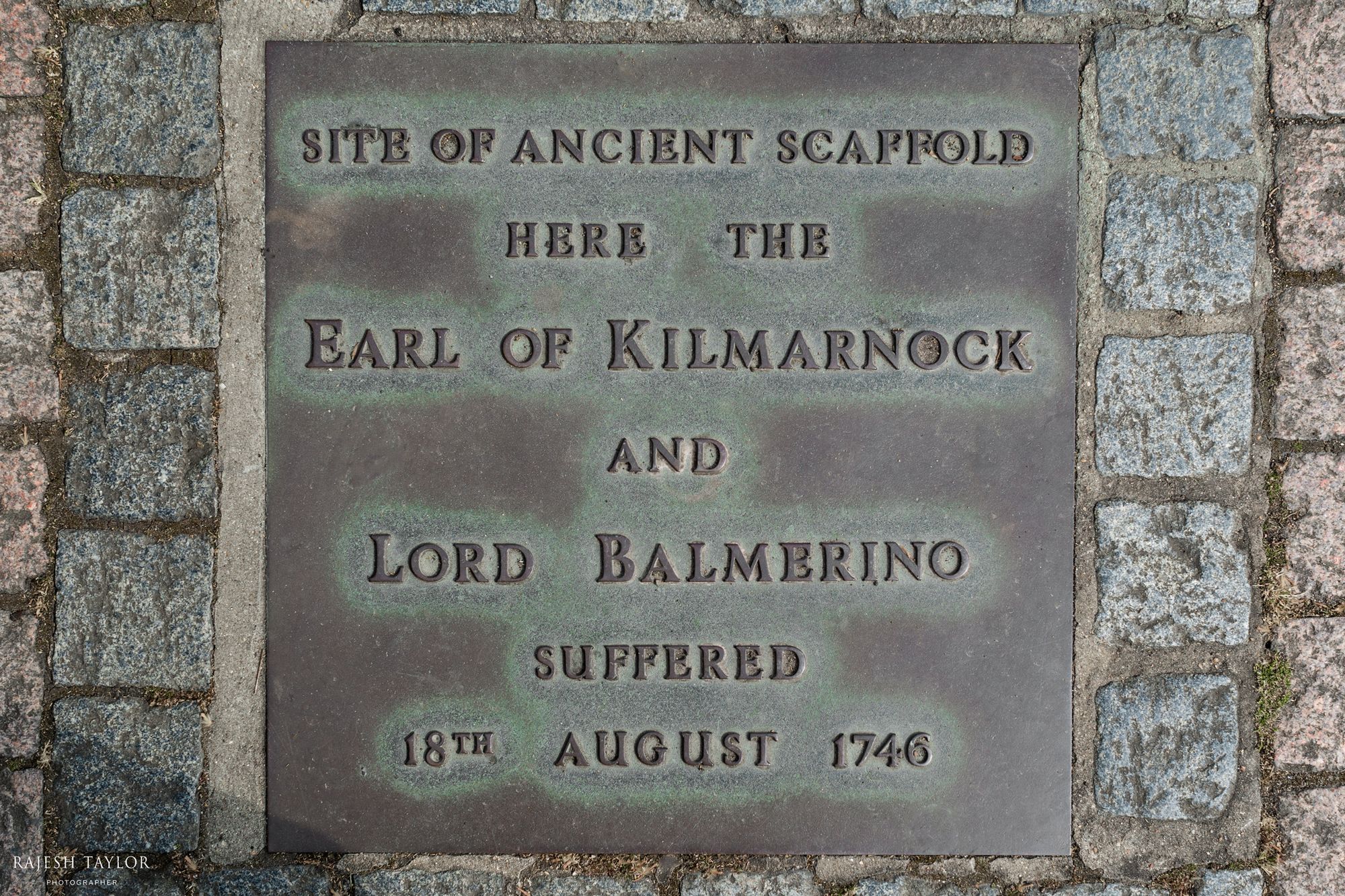 He was joined by another Jacobite, Arthur Elphinstone the 6th, and last Lord Balmerino. Previously pardoned, he represented himself but offered little in the way of a defence. Both he and the Earl would be found guilty and beheaded on the same summer's day in 1746.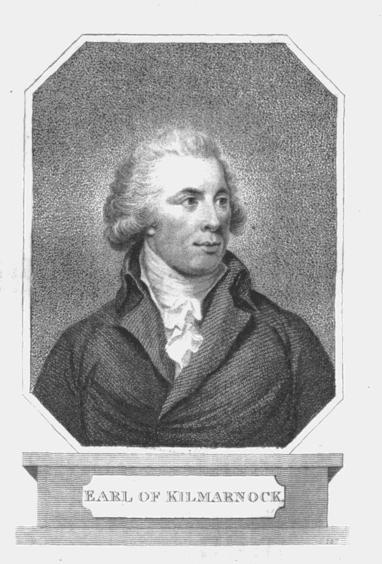 News of the executions were sent across the country from London to Derby in the Midlands and as far as Newcastle in the North East. I had a look at several 270 year old weekly newspapers. Reporting seemed more thorough back in the 1700's.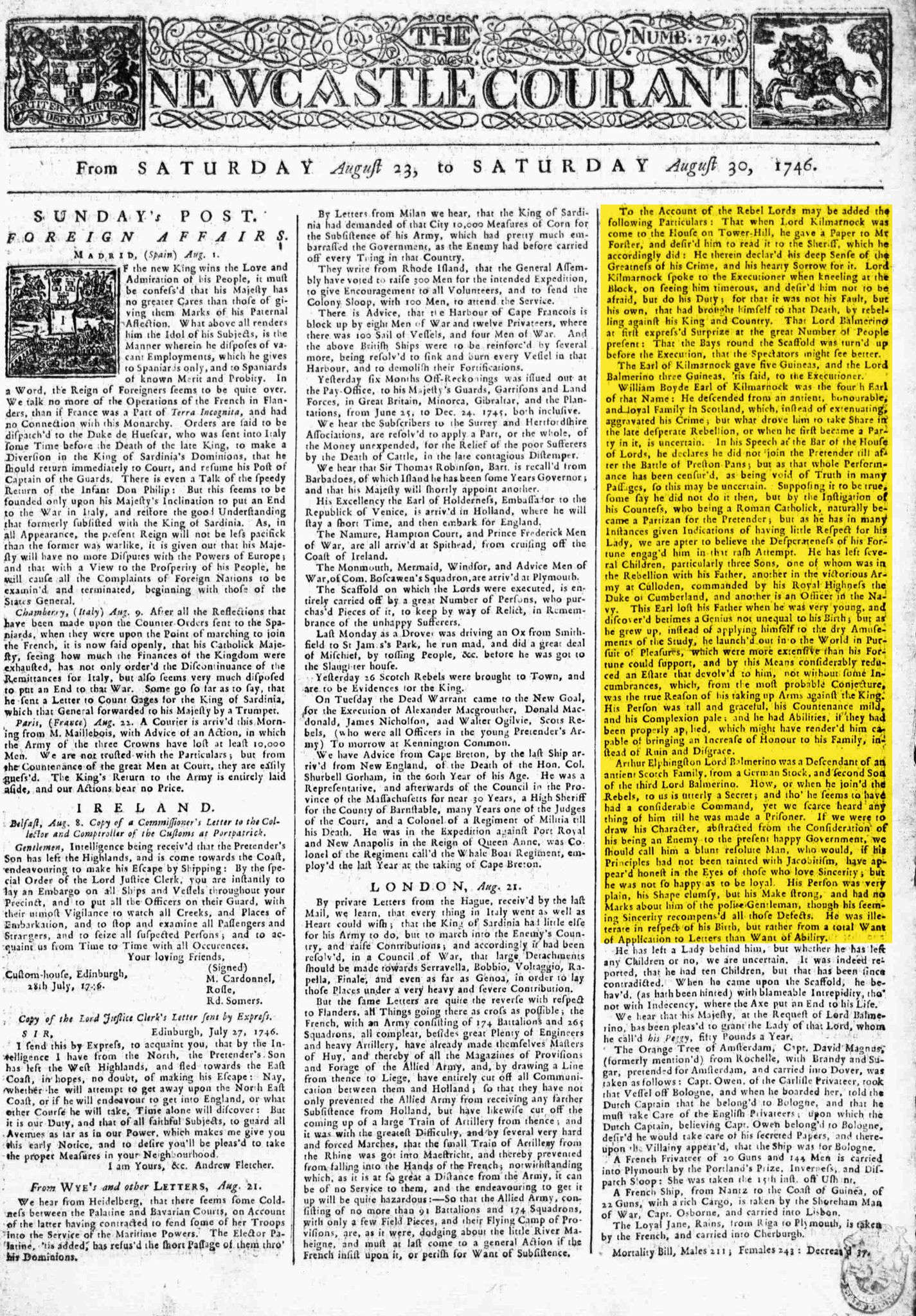 As the clock struck 10, both Lord Kilmarnock and Lord Balmerino came forth on foot from the Tower. Lord Balmerino dressed in a blue coat turned up with red, his rebellious regimentals, a flannel waistcoat and his shroud underneath. Their hearse followed behind.
They were escorted to a house near the execution. Lord Kilmarnock remained in there for an hour and a half, and shed tears. He would come to the scaffold terrified, but with a resolution that prevented his behaviour to the least unbecoming of a gentleman.
He took note of the crowd, stood and prayed for some time. Then delivered a long speech to the Sheriff with a noble manliness. He then took off his bag, coat and waistcoat with great composure and after some trouble put on a napkin-cap. Then several times tried the block. The executioner who was in white, out of tenderness concealed the axe behind himself.
How thoughtful.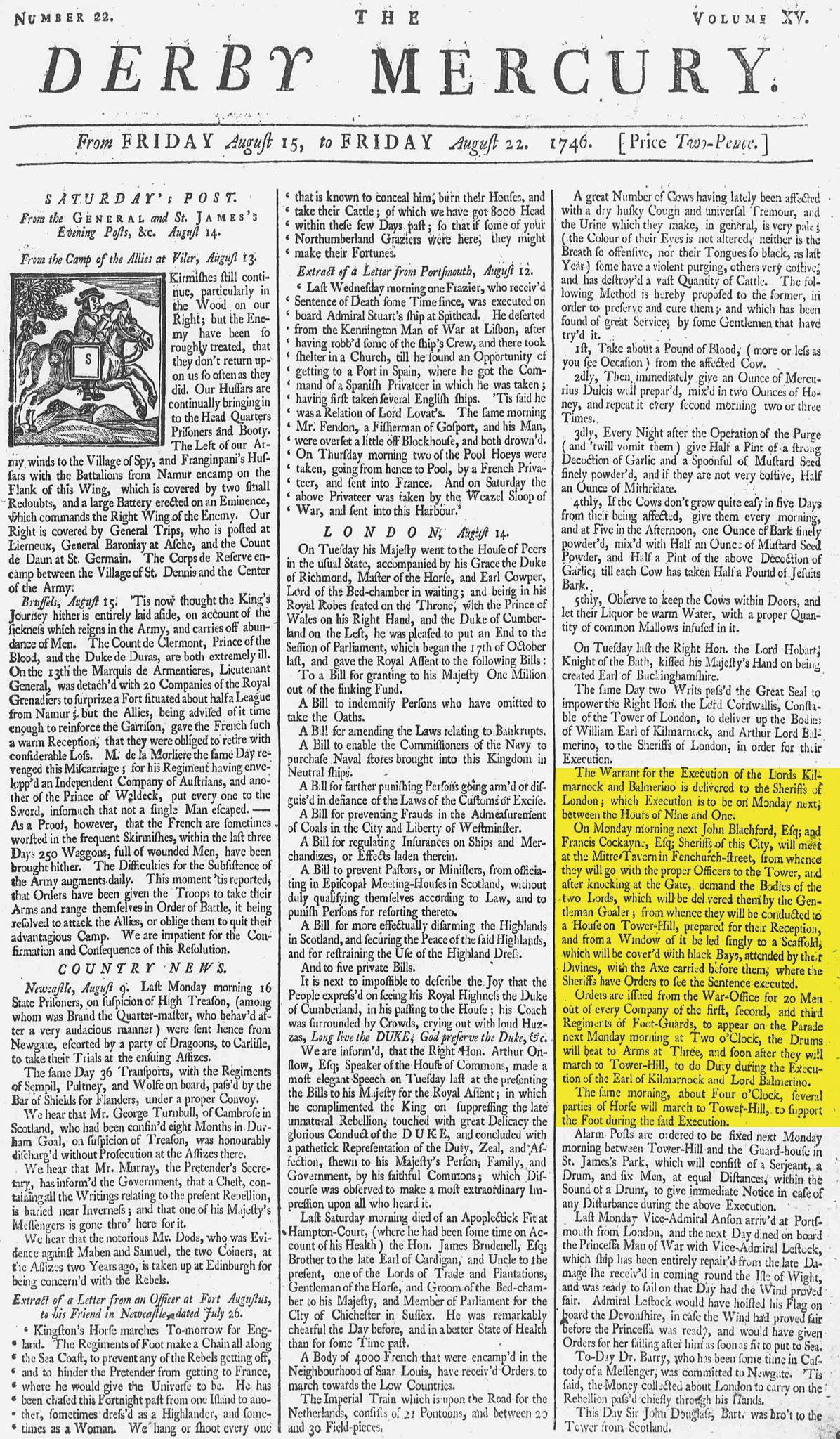 The Earl knelt down, with a visible unwillingness to depart and after 5 minutes dropped his handkerchief, the signal and his head cut off once, only hanging by a bit of skin. It was put in a scarlet cloth by four of the undertaker's men and put into the coffin along with the body.
The scaffold was sprinkled with new saw-dust, a new execution block put in place and the executioner newly dressed and with a new axe. Then came Balmerino, treading with the air of a general. He mounted the scaffold, read the inscription of his coffin and surveyed the spectators, amazing in numbers. Even on ship masts along the river.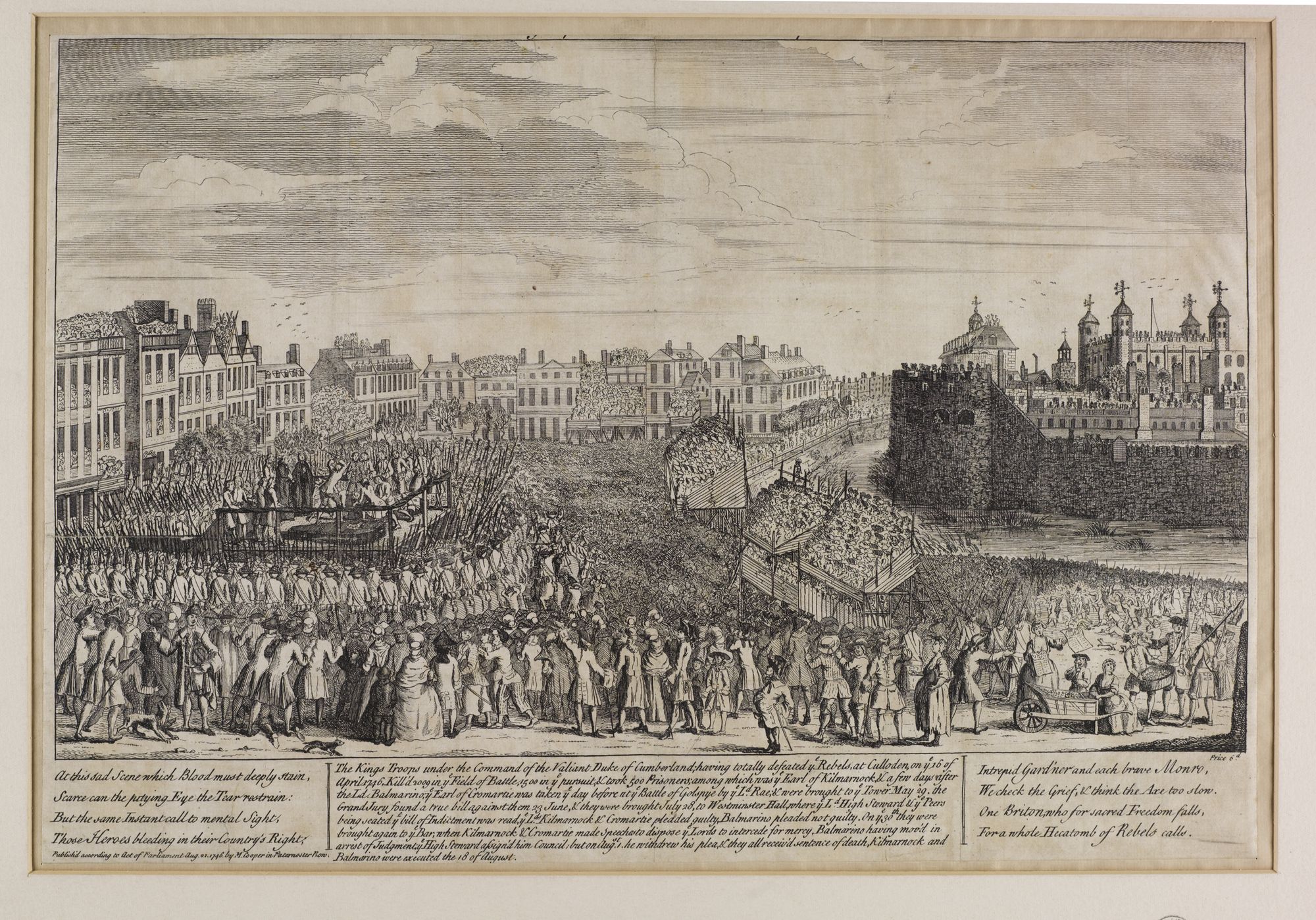 Pulling out his spectacles, he gave a treasonable speech to the Sheriff, took the axe, felt it and asked the headsman how many blows he had given Kilmarnock and gave him three guineas.
He went to the corner of the scaffold, put on a nightcap of scotch plaid, pulled off his coat and waistcoat and laid down. But was told he was on the wrong side, vaulted round and immediately gave the sign.
Lord Balmerino's execution reportedly took three blows...
---
Old English Money - Britcoin
A "guinea" was a 22 carat gold coin worth £1.05 weighing 8.3 grams. It was replaced in 1816 by the Pound (£) and fazed out when the UK currency was decimalised in 1971. It was also the same year President Nixon unpegged the US dollar from the Bretton Woods gold system 50 years ago... this August.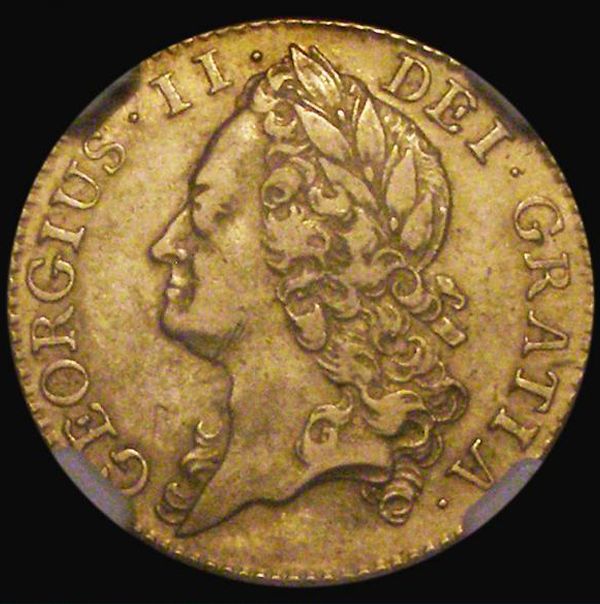 The equivalent purchasing power of Lord Balmerino's 3 guinea tip from 1746 before having his head hacked off is £22,744 in today's money.
---
Tower Subway - North Entrance
Raven 3
The Tower Subway was opened in August 1870 and was the precursor to London's tubular underground network. Located around the corner from Gloucester Court on Petty Wales. The original entrance was demolished in 1926 and replaced with this little stumpy brick tower.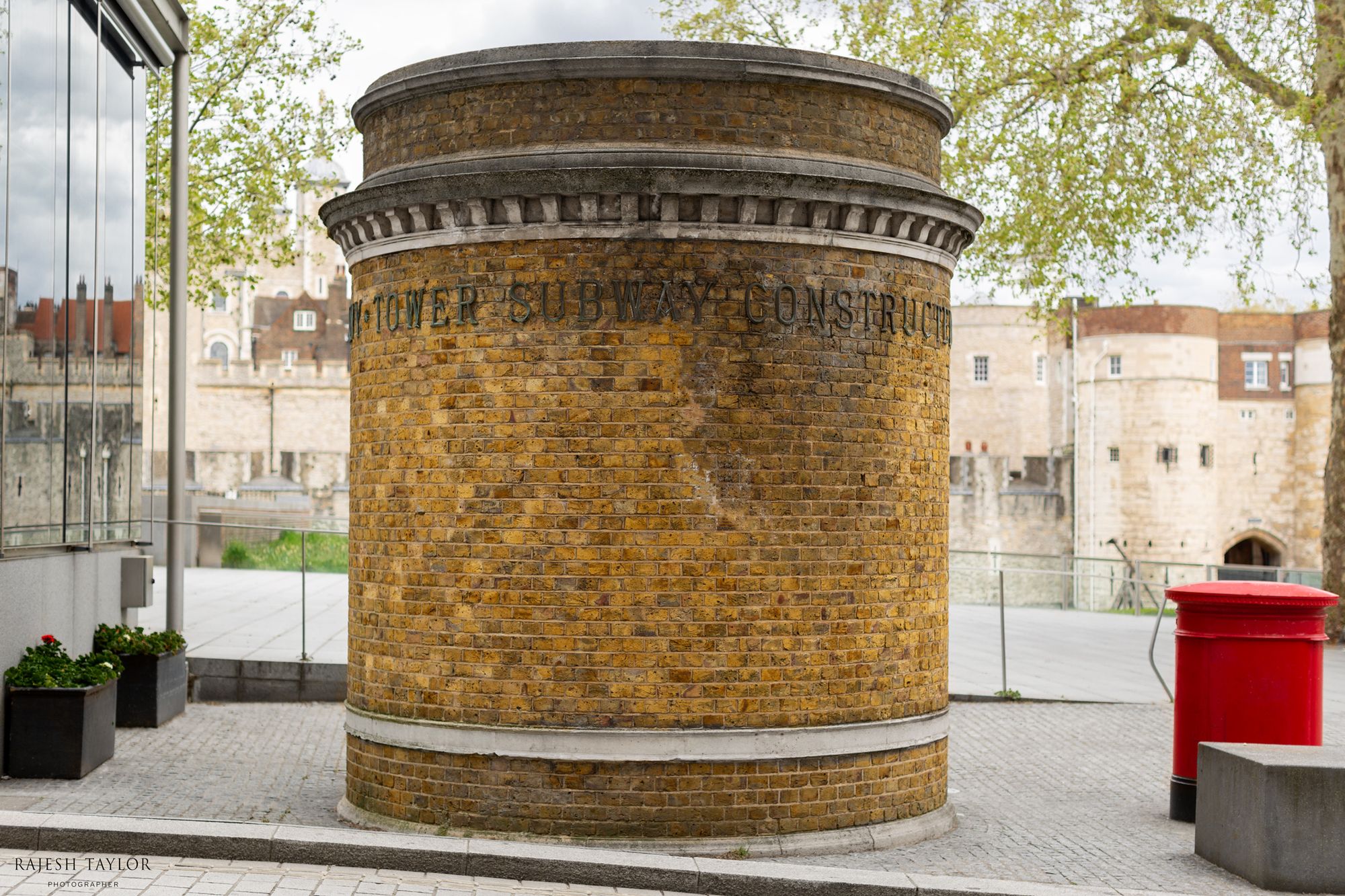 Two entrance shafts on both sides of the river were fitted cables hauled by steam-powered lifts for passengers. The tunnel was laid with 2 feet 6 inches wide of railway track and a single carriage carried a maximum of 12 passengers.
Victorian Oyster: Fares would cost a penny (1d) in old money, for a first class ticket, half penny (1/2d) for second class. First class tickets gave the purchaser priority boarding.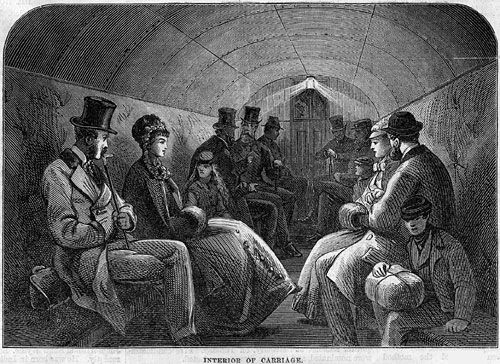 Within months of opening, the system had already grown a reputation for being unreliable and uneconomic with the locals. Like today's underground, it was a consistent loss maker. It closed within four months.
The tunnel was converted to pedestrian use with a million people a year crossing under the river, paying half penny for the privilege. However in 1894, construction of Tower Bridge was completed, providing a more scenic way to cross the river, for free.
🍺
By the hydraulic pump entrance, the Starbucks behind used to be a pub called the Tiger Tavern. Built in 1504, it was used as a public house until the 1990's. One of its former barman and cellar man told me there is a tunnel that runs from The Tower to this corner location. Not only did Queen Elizabeth I use this tunnel to escape the Tower for a while, in her day, but the Yeoman did too, even into the 20th century.
Speaking of pubs...
The Hung Drawn & Quartered Pub
Raven 4
It doesn't take a genius to link the pub's name to the old execution site on Tower Hill. The corner building was taken over by the pub from a bank in 1914.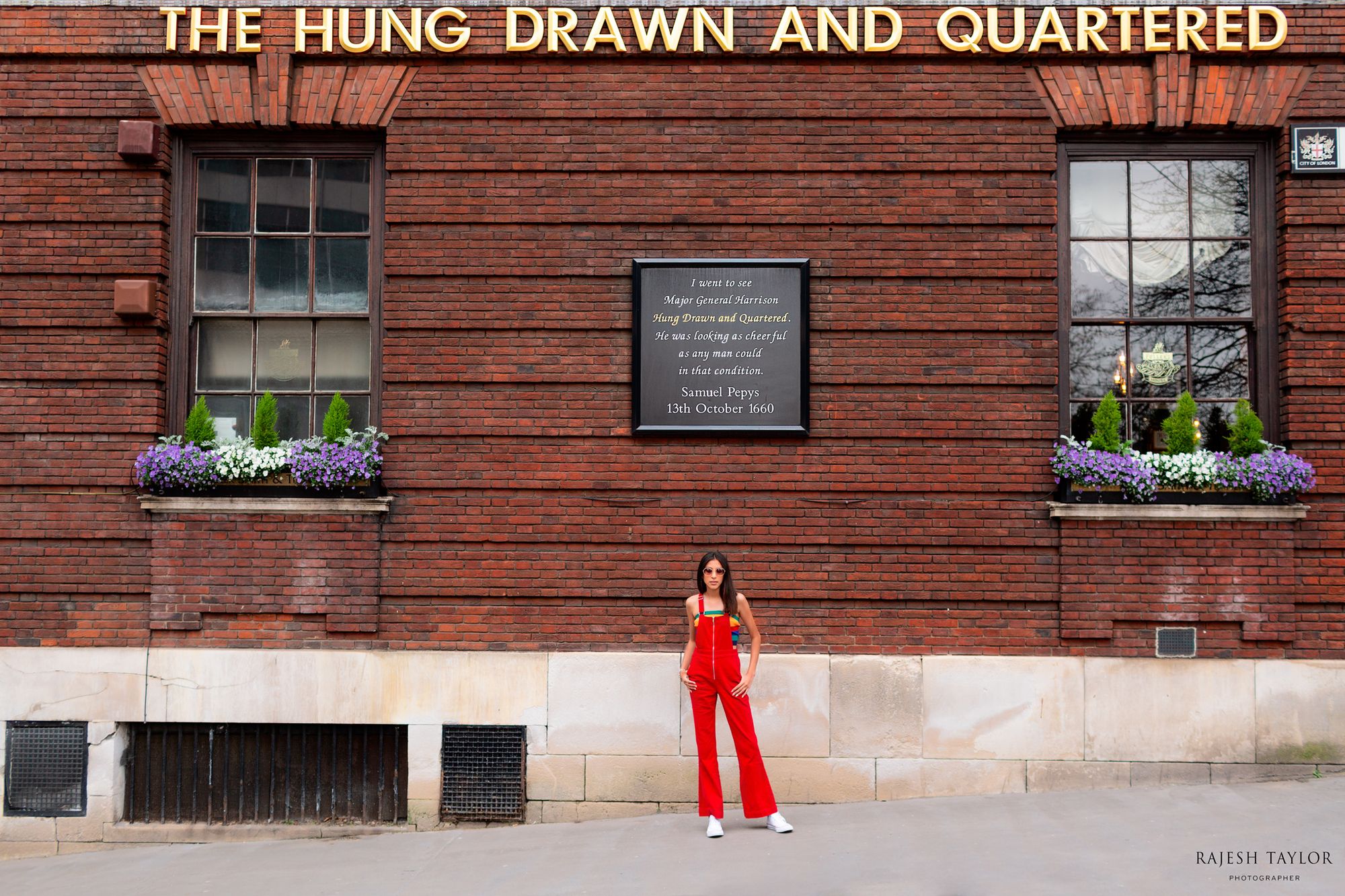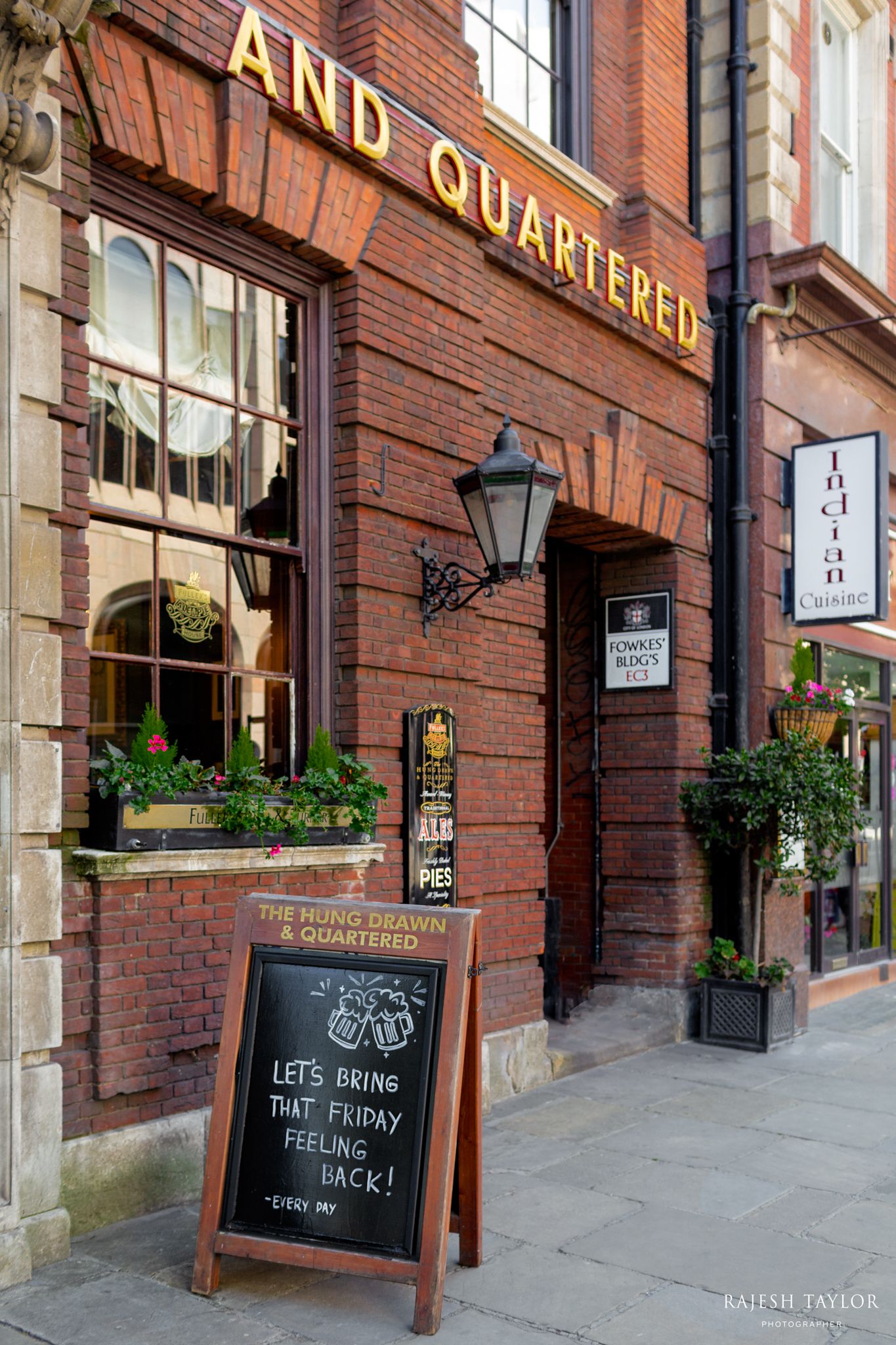 Today the interior boasts high ceilings and wood panelling, and pictures of former monarchs adorn the walls. Note the gallows as you enter.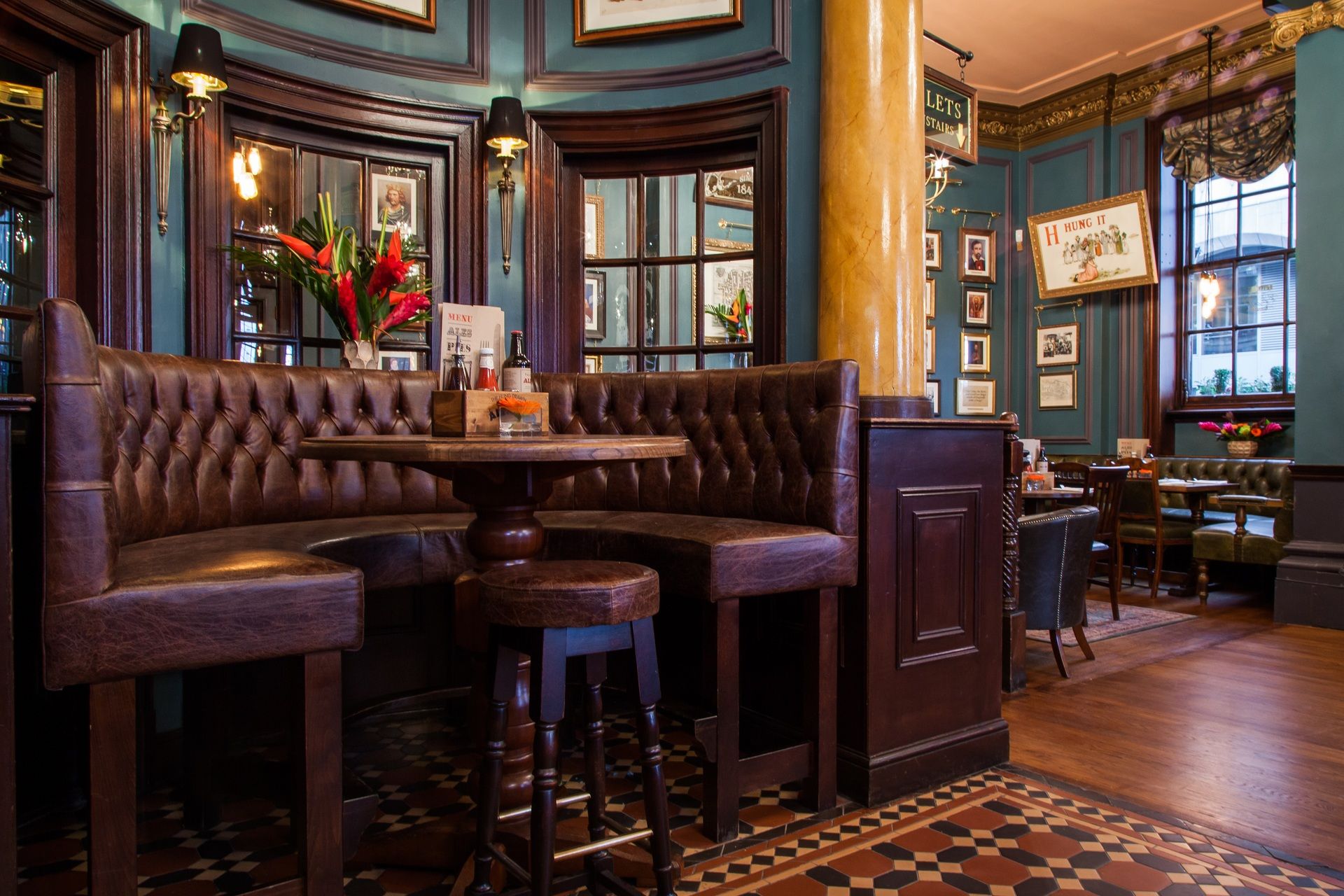 A plaque on the external wall facing The Tower quotes a passage from the famous Diarist Samuel Pepys after witnessing an execution, though this was at Charing Cross in the City of Westminster, not the City of London.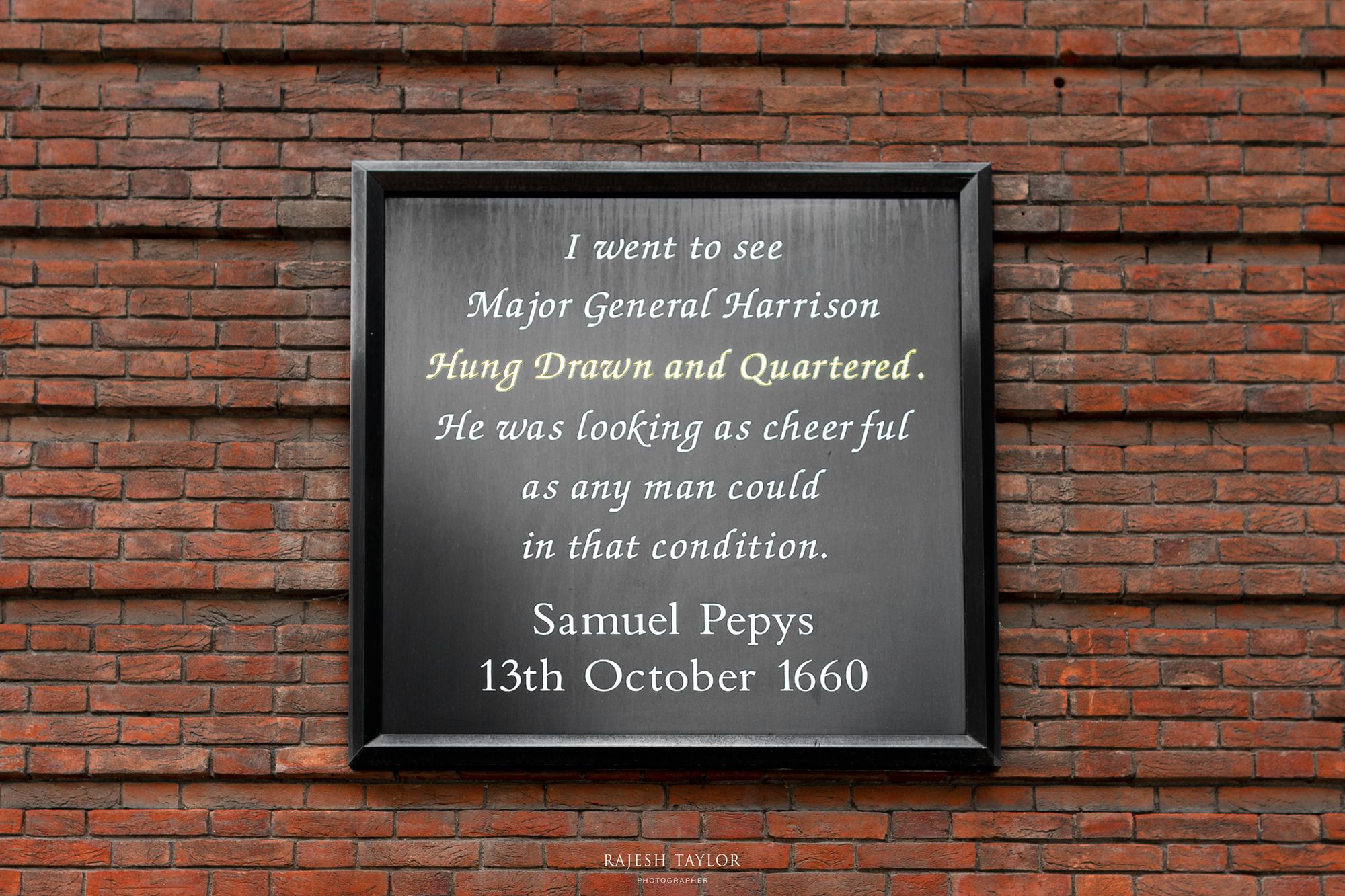 "I went to see Major General Harrison. Hung drawn and quartered. He was looking as cheerful as any man could in that condition".
The grade two listed building next door was also erected in 1914, as part of Christ's Hospital School's offices, originally founded in 1552 to help the poor.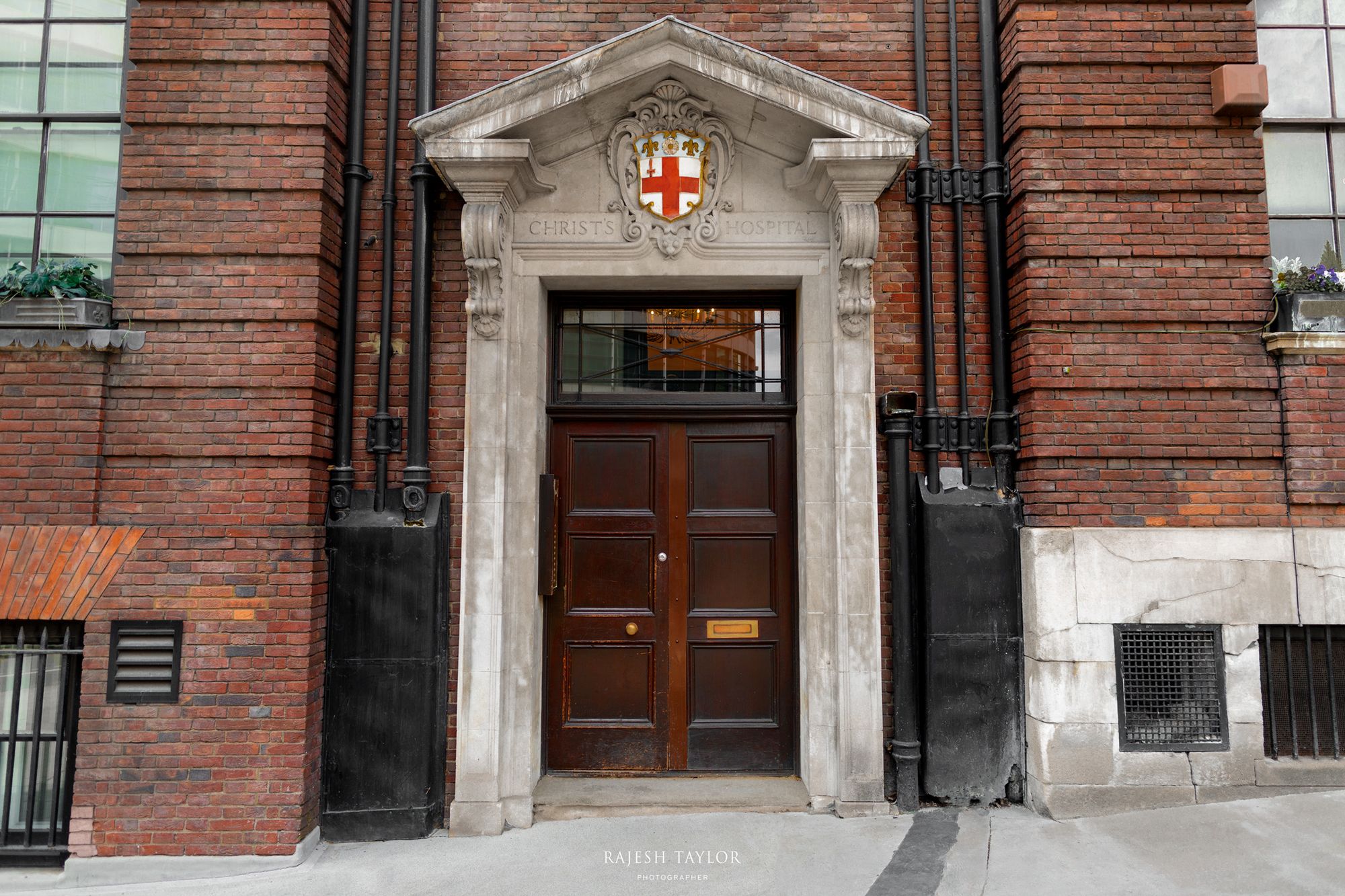 Frequently Asked Questions
Q: What is the nearest tube station to Gloucester Court?
Alight at Tower Hill, which runs on the Circle & District lines. The pub is a 2 minute walk from the station and you will pass the Execution Memorial inside Trinity Square Gardens along the way.
Q: Is the Hung Drawn & Quartered a family friendly pub?
Yes, many parents take their teenagers to experience being Hung Drawn and Quartered.
Q: What is the price of a pint at the Hung Drawn & Quartered?
£4.25
---
Leave a Tip
If you have enjoyed this, please consider becoming a Member or forwarding to friends fascinated in bollards or public executions. Thank you, Rajesh.