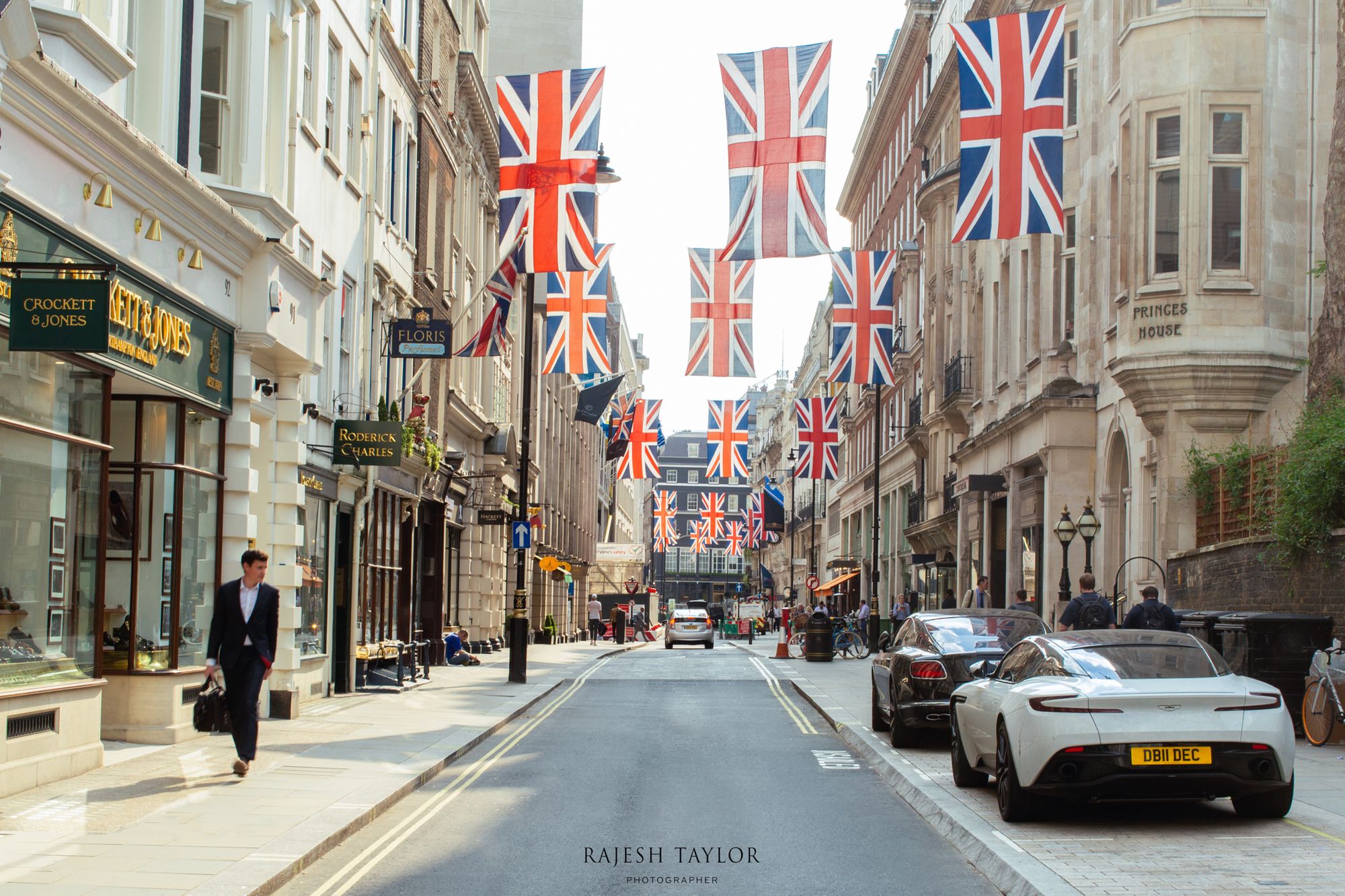 My favourite men's accessories, from the home of gentleman's fine attire and craftsmanship.
Men's Scarves
Turnbull & Asser
Shirtmaker's Turnbull & Asser are synonymous for their bespoke and ready-to-wear shirts. Their shop, on the corner of Bury and Jermyn Street, is a museum in its own right.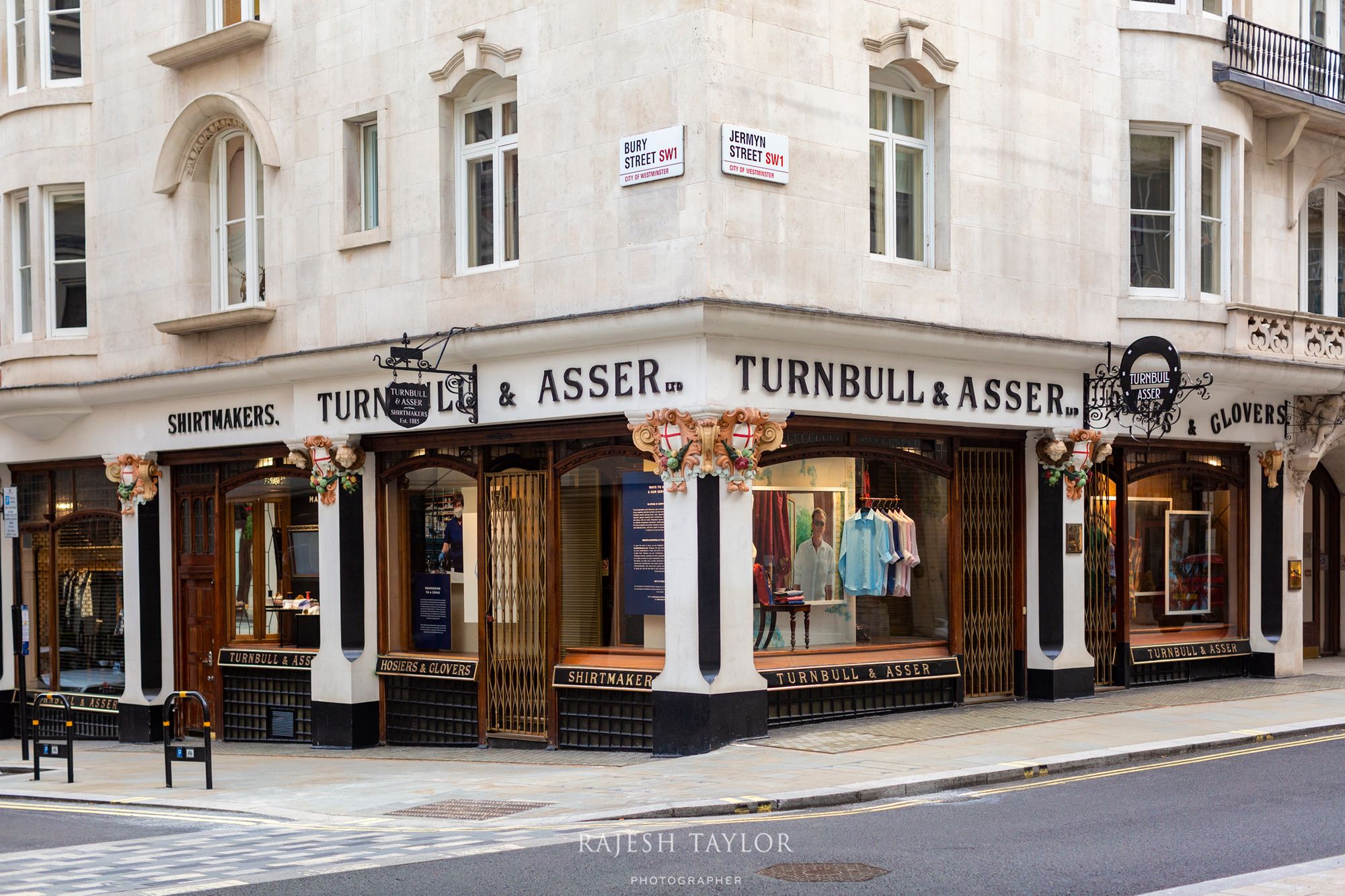 Downstairs, is a large selection of collars, cuffs, fabrics and patterned shirts. A glass cabinet standing inbetween columns of folded shirts displays the 7th disident of the Duke of Marlborough's green velvet siren suit.
One of the owners' favourite brand of cigars nestles in the front pocket, with a handwritten thankyou note from his wife – Clementine Churchill framed to its right. Most people knew Winston Churchill as a great Wartime Statesman. Turnbull & Asser, as a size 46.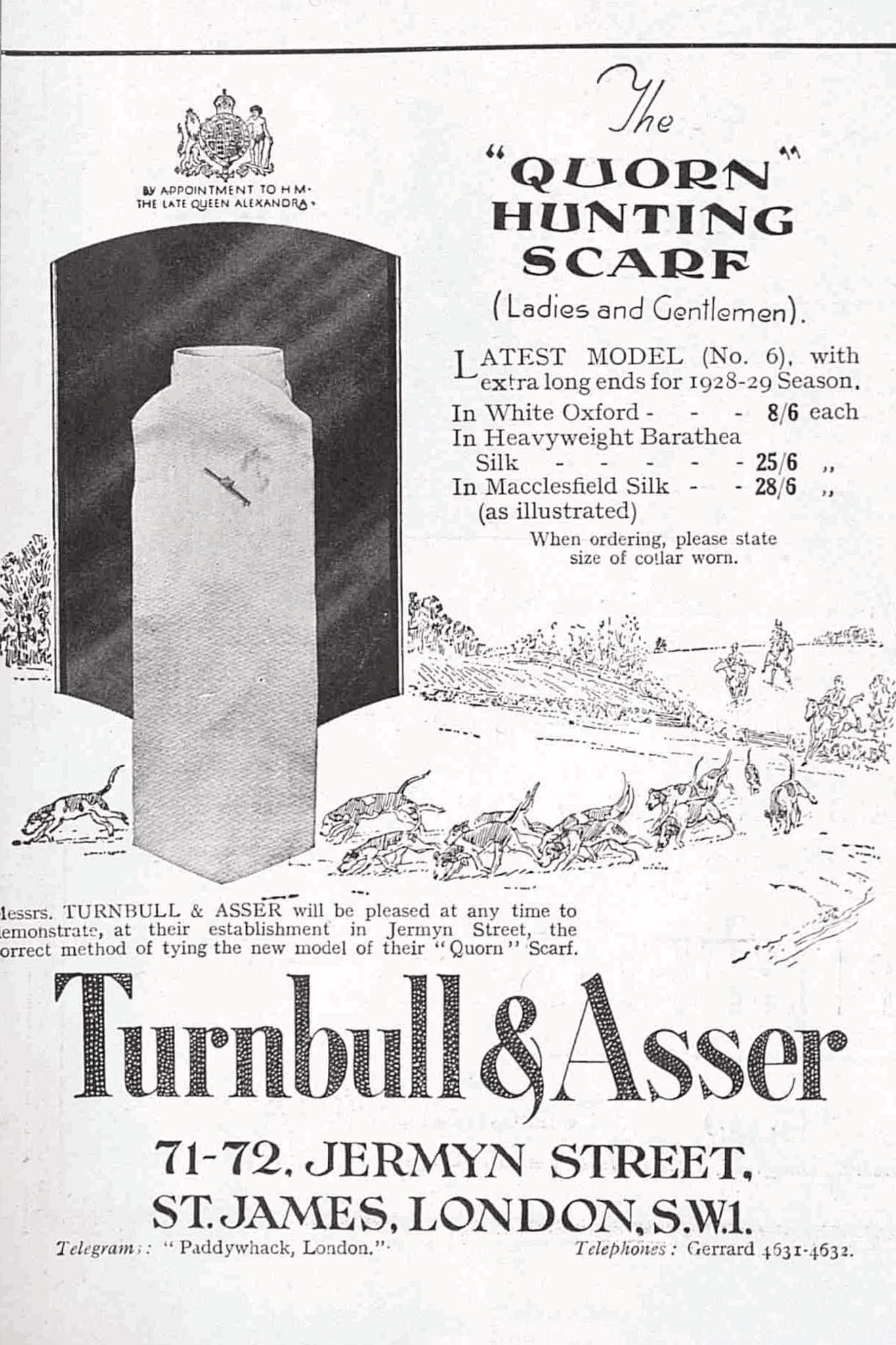 Several feet away from Churchill's suit, once stood former milkman, Thomas Sean Connery measured prior to filming his first James Bond film. Four of the six 007 agents have since had their shirts tailored at Turnbull & Asser. Much of Bond's attire (and scent) is sourced from the craftsmen on Jermyn Street.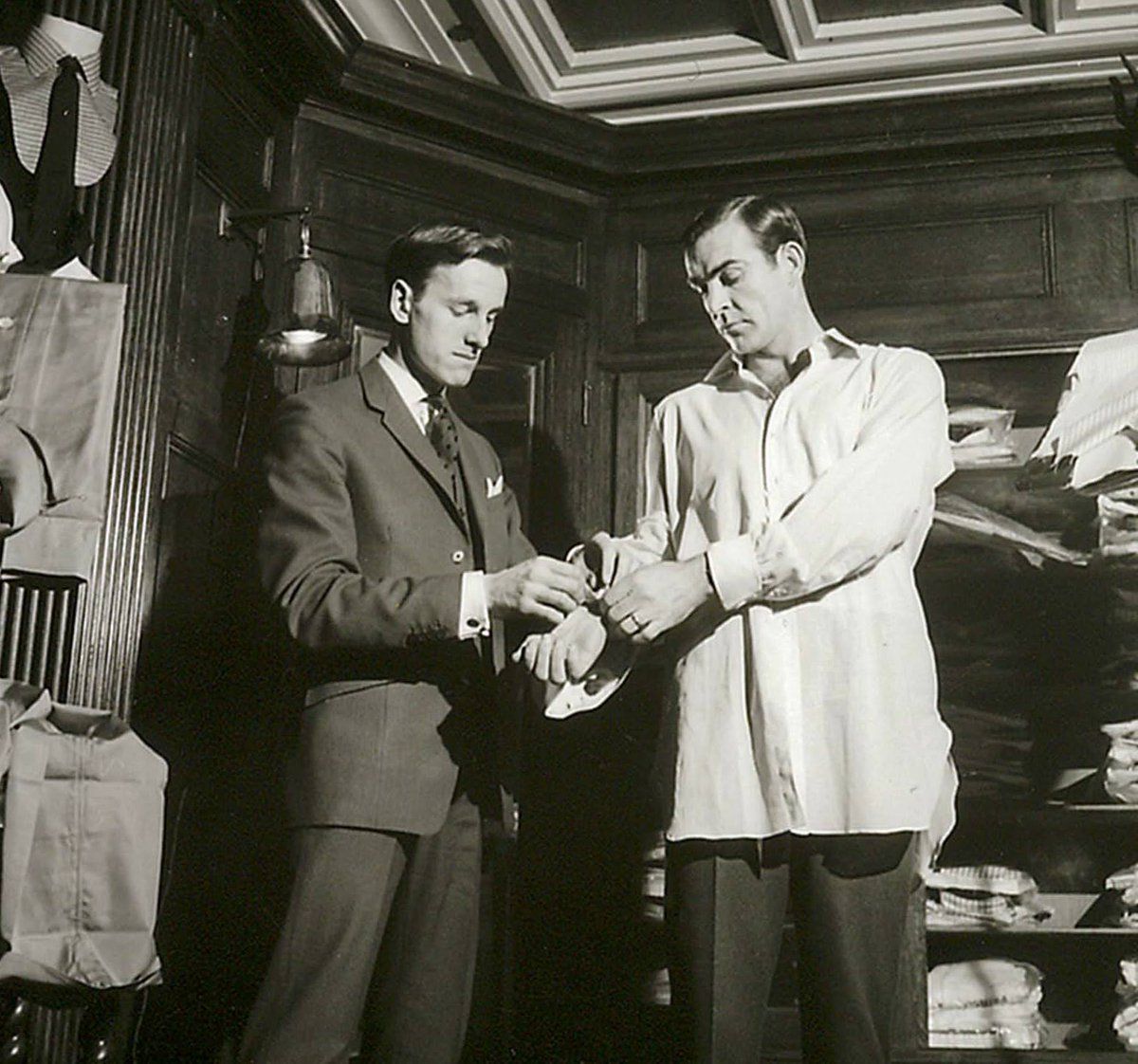 A suave and sound online investment is their cashmere scarf in the Bordeaux colour palette. This layered addition will easily stands the test of time past fashion and seasonal trends.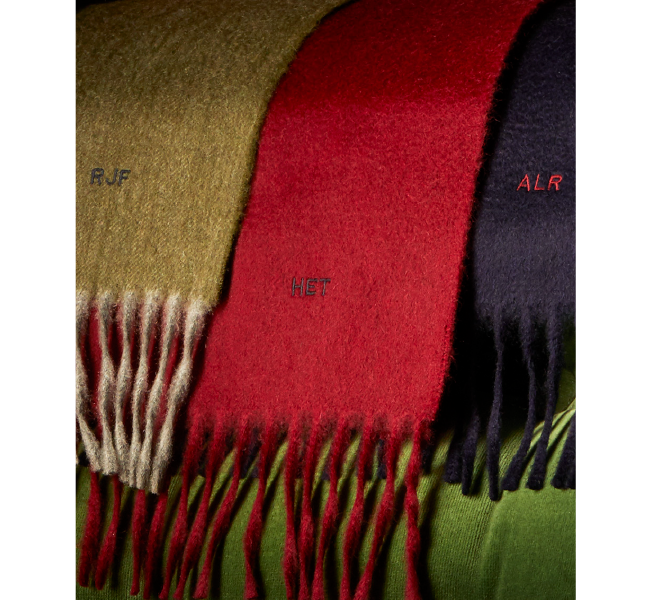 These scarves measure 196cm in length and 36cm in width, so can be well wrapped around the porkiest of gentlemen. An option to personalise up to three letters as a monogram in either the same or contrasting colours is available. They currently have a selection of 37 designs, including English Silk for the more dandy.
With an American boutique on 50 East 57th Street, New York. US deliveries will arrive just as prompt as orders made for UK residents – with no export duties to pay. Dealings on behalf of clients with Turnbull & Asser have been both welcoming and professional. An easy recommendation.
Aspinal of London
Like many based in the West End of London serving international foot-flow, they've seen revenues dive. Thankfully, they restructured their loans and tenancy rates to maintain their flagship shop in St James's.
Aspinal of London's cold weather, cashmere scarves wrap up my second option. Like Turnbull & Asser they source the cashmere from Scotland.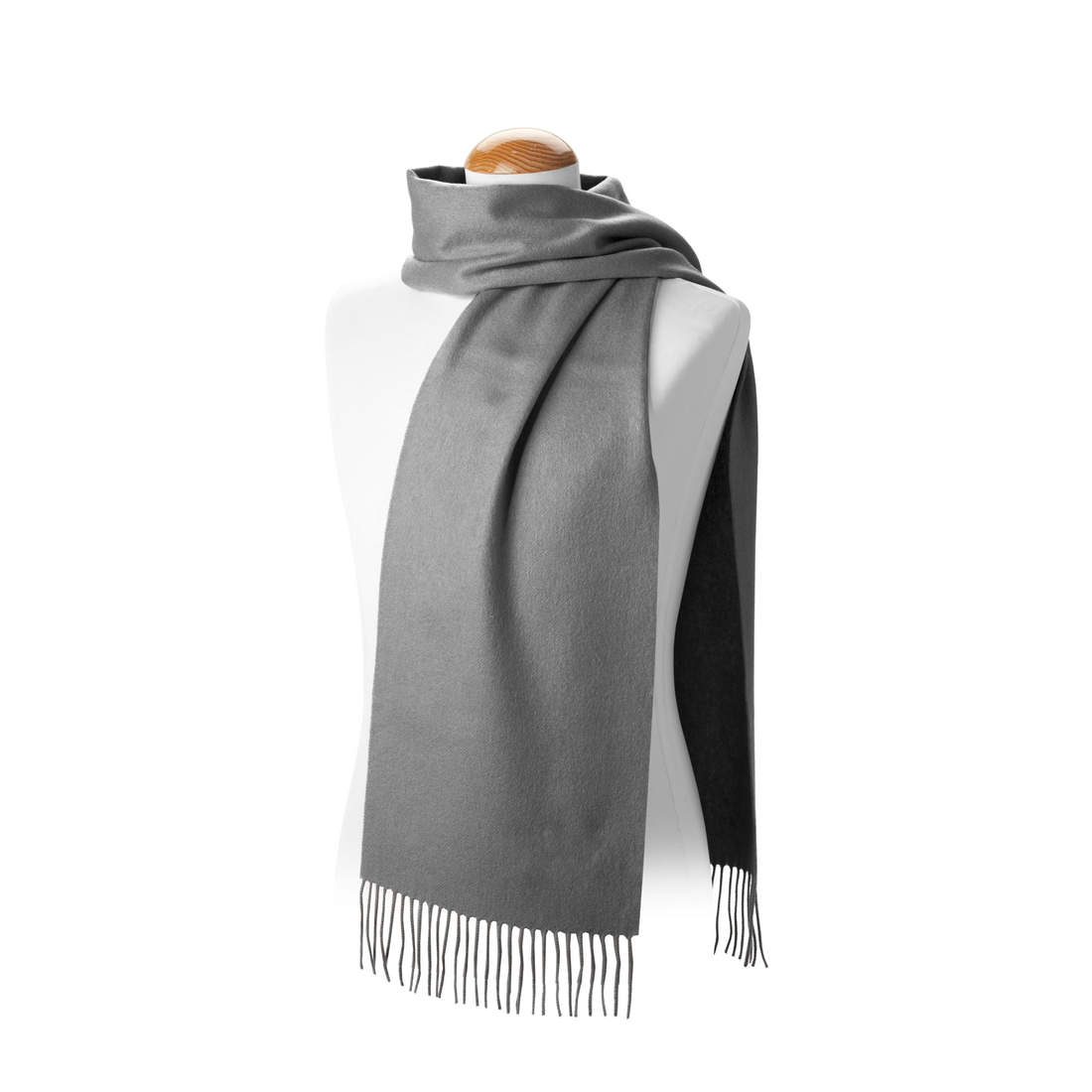 I've always opted for navy blue to compliment my darker complexion. The more festive deep burgundy cashmere scarf provides a warmer accent colour, finishing off a smart casual winter look. Ladies, will particularly like their range of handbags and clutches.
Men's Grooming
This 1928 advert from Mappin & Webb caught my eye. Founded in 1775, one year before 13 American colonies severed British political connections and issued the Declaration of Independence. Today their flagship shop is on 1 Old Bond Street. With that address, it was little surprise to find they're specialists in Fine Jewels and Silver.
Notable customers have included Charles Dicken's, who bought a claret jug in 1859, an Indian Maharaja (solid silver bedroom service set in 1904), The Admiralty (watches in 1914) and Winston Churchill (ashtrays and pocket watches in 1960). In 2012, they were appointed the Crown's Jeweller.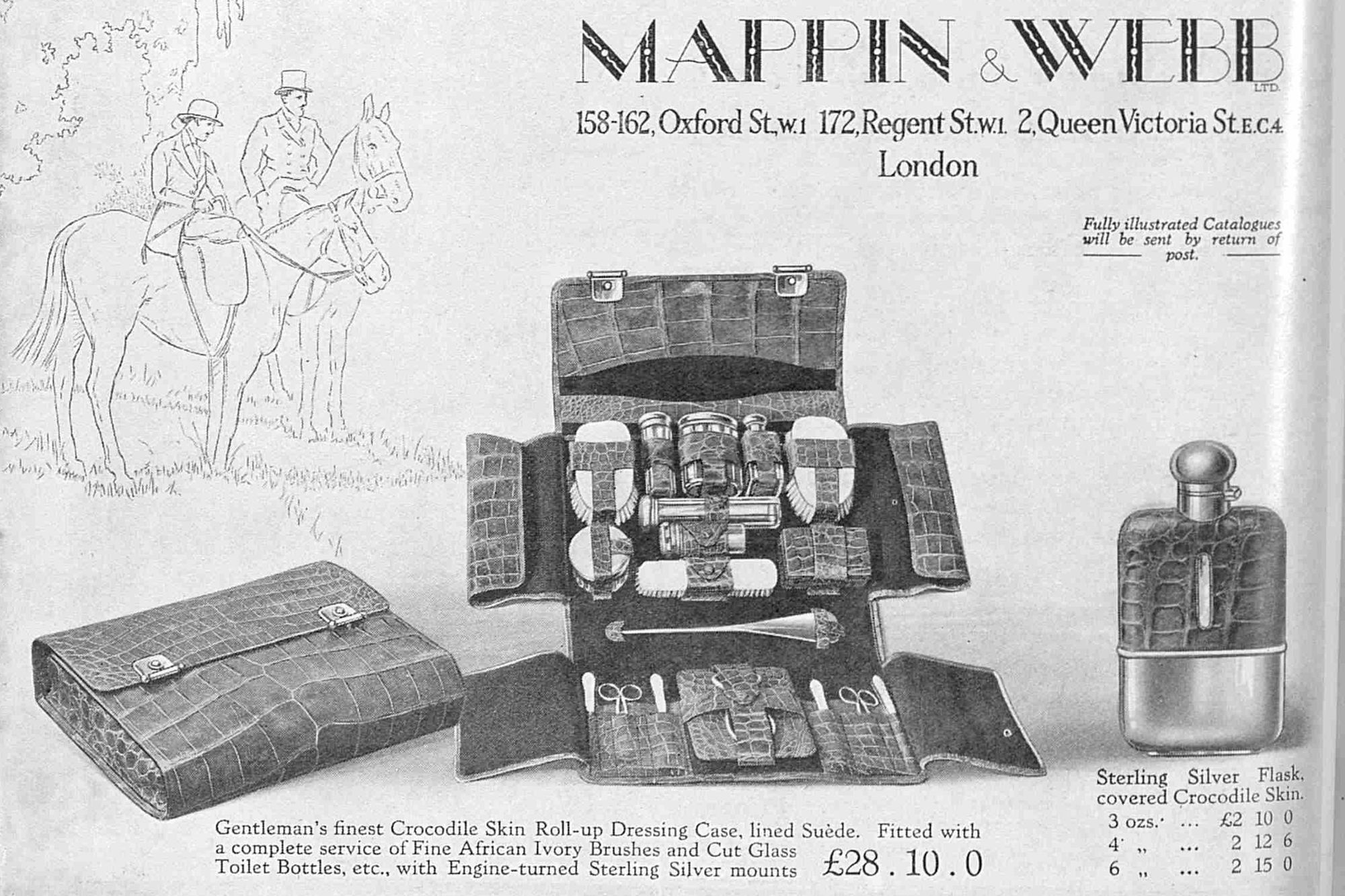 These types of crocodile fine leather travel cases are rare today. However, I have sourced the items individually. Soap, shaving sets and hip flasks from the district of St James's.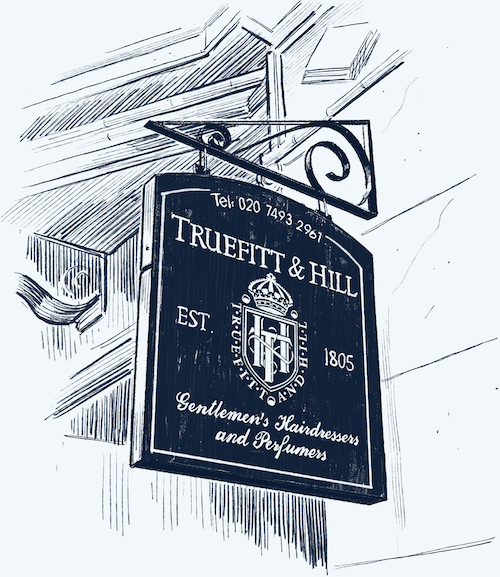 Truefitt & Hill in St James's is the oldest Barbershop in the world (1805). Their latest Royal Warrant is from H.R.H The Duke of Edinburgh, or if you haven't been following The Crown – The Queen's husband.
The Regency Set with Bowl is a popular gifting present. I often see the ivory set along with accompanying shaving tub chosen. Ladies tend to pick with an eye in mind on bathroom decor. So gentleman, take note of where this will be displayed. With a presence in America, purchasing through their US Site avoids customs tax and delivery times just prompt as orders made in the UK.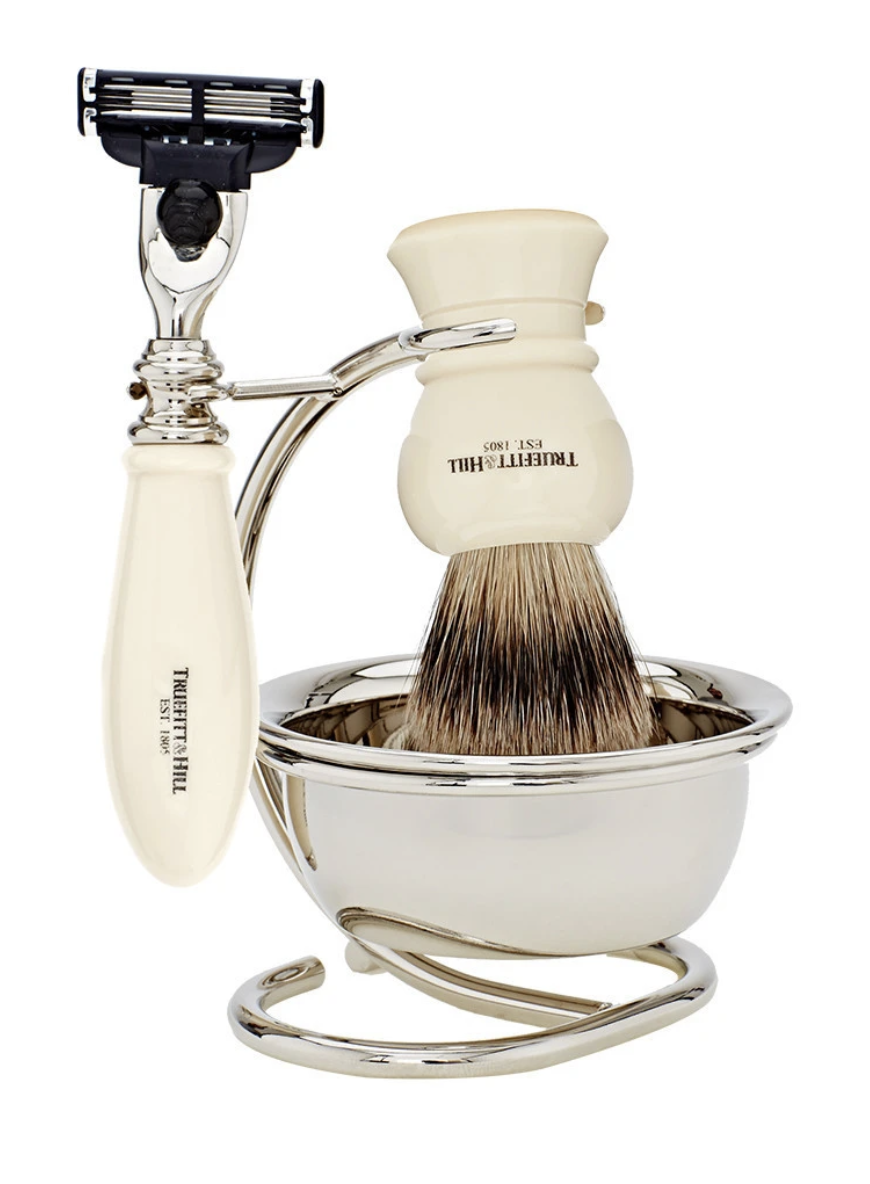 ---
Badger Brush and Razor Stand
Taylor of Old Bond Street (who reside at 74 Jermyn Street) stock a badger brush, razor and stand, minus the brush bowl which is slightly easier to store in a gent's travel case.
The best shaving brushes are made from badger hair. Badger hairs will help scrub the skin more softly, whilst opening up pores, stimulating the hair follicles so they stand straight, ready for a closer shave.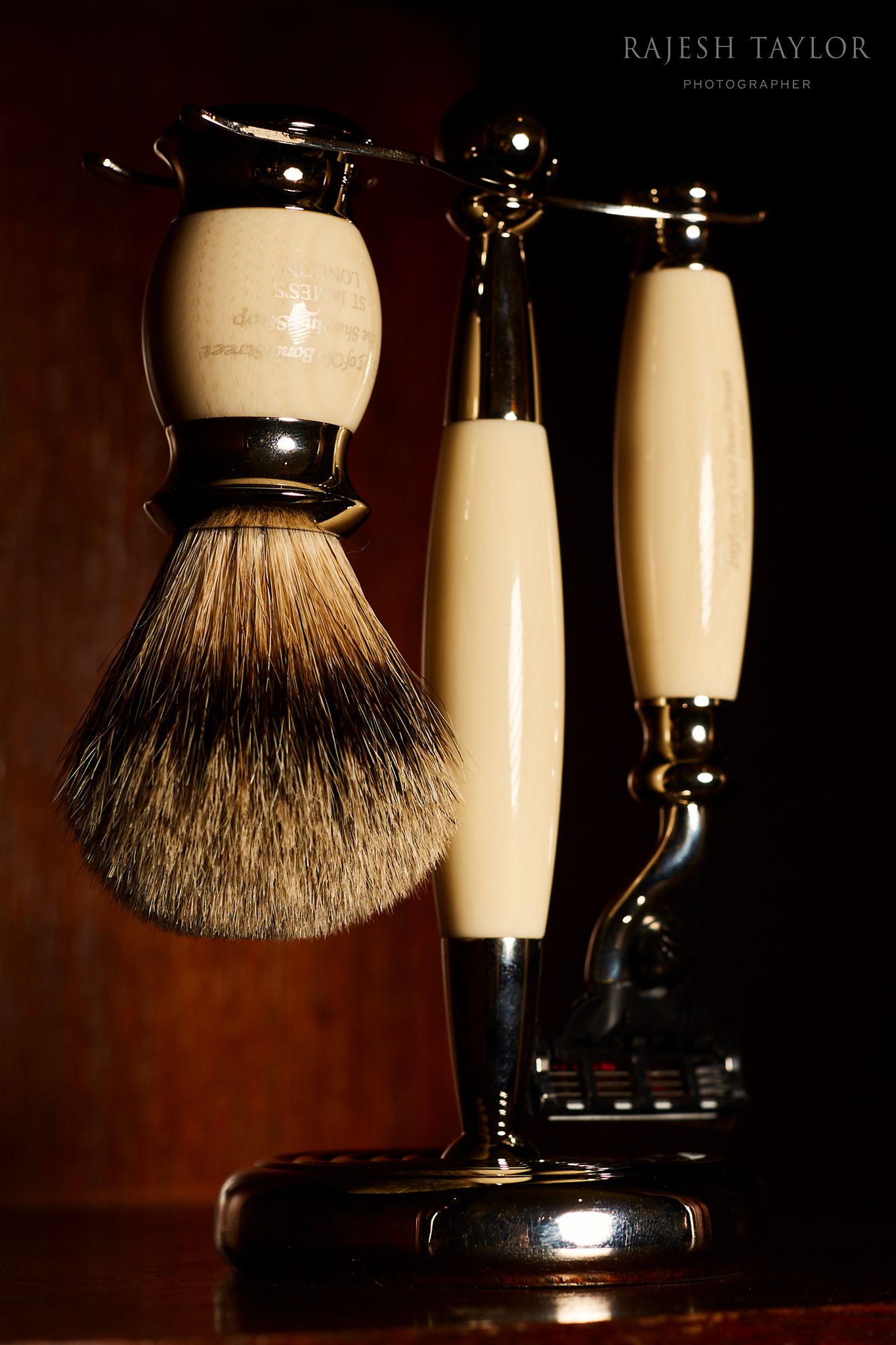 Taylor of Bond Street and Truefitt & Hill both stock the finest mens's grooming badger brushes. If it's good enough for Duke's... we're in good company.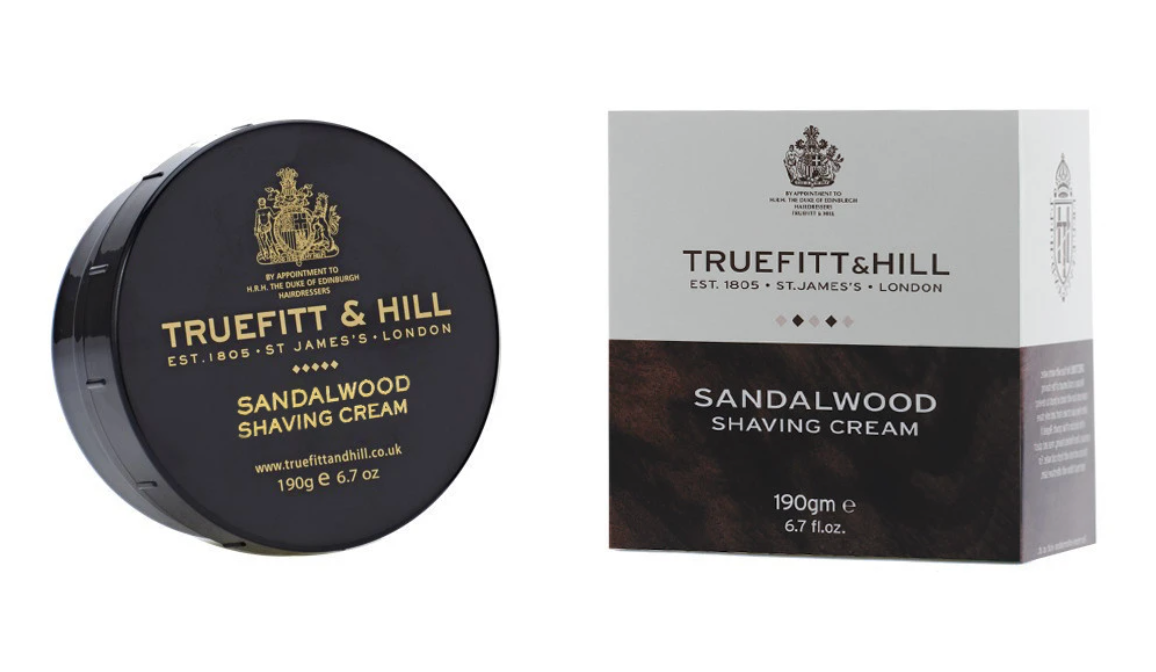 Ladies, to appear like you've done your homework. Truefitt & Hill's Sandalwood shaving cream pairs nicely with the badger brush for a fine shaving experience. If gifting to extended family or friends and unsure whether their skin is delicate, their Classic Shave Gift Set includes the cream along with an aftershave balm and cologne.
Hand-Made Manicure Set
Moving onto the 5 Piece Manicure Set in a leather case. This includes: Cuticle Nail Scissors, Precision Nail Clippers, a Nail File, Tweezers and a Pocket Knife. Everything a gentleman needs in order to keep his nails in fine trim. Perfect for gentleman whose work includes in person important business meetings with clients seen only once or twice a year. It is available in tanned whisky or black leather. The high grade steel is sourced from Solingen, Germany.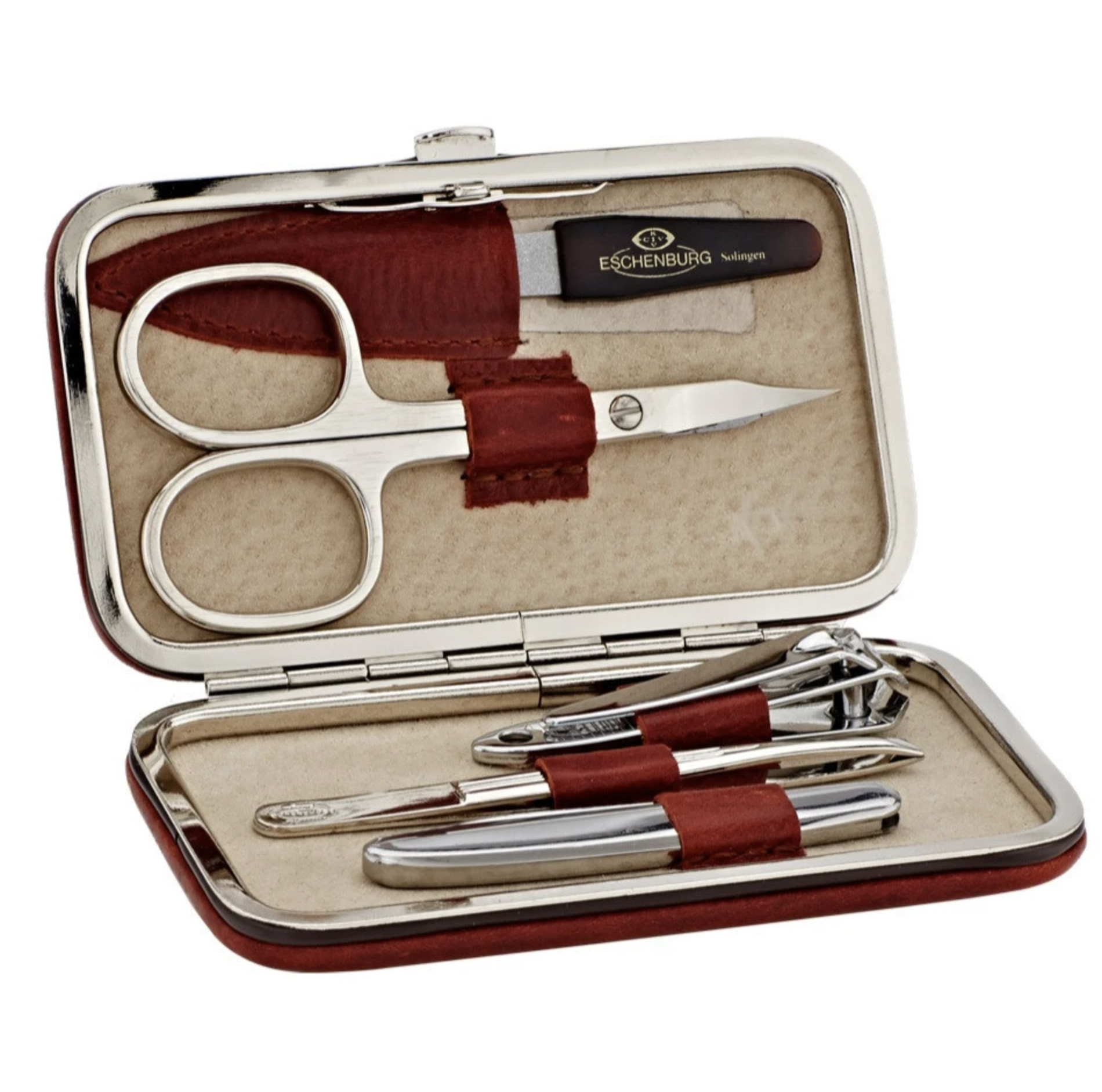 My personal peference is for the tanned option as I've paired it with a brown leather hip flask.
During the Prohibition years in America the production, possession and consumption of alcohol was illegal in many States until 1933. The discrete and sleek profile of hip flasks made it easy to slip them into small compartments and pockets.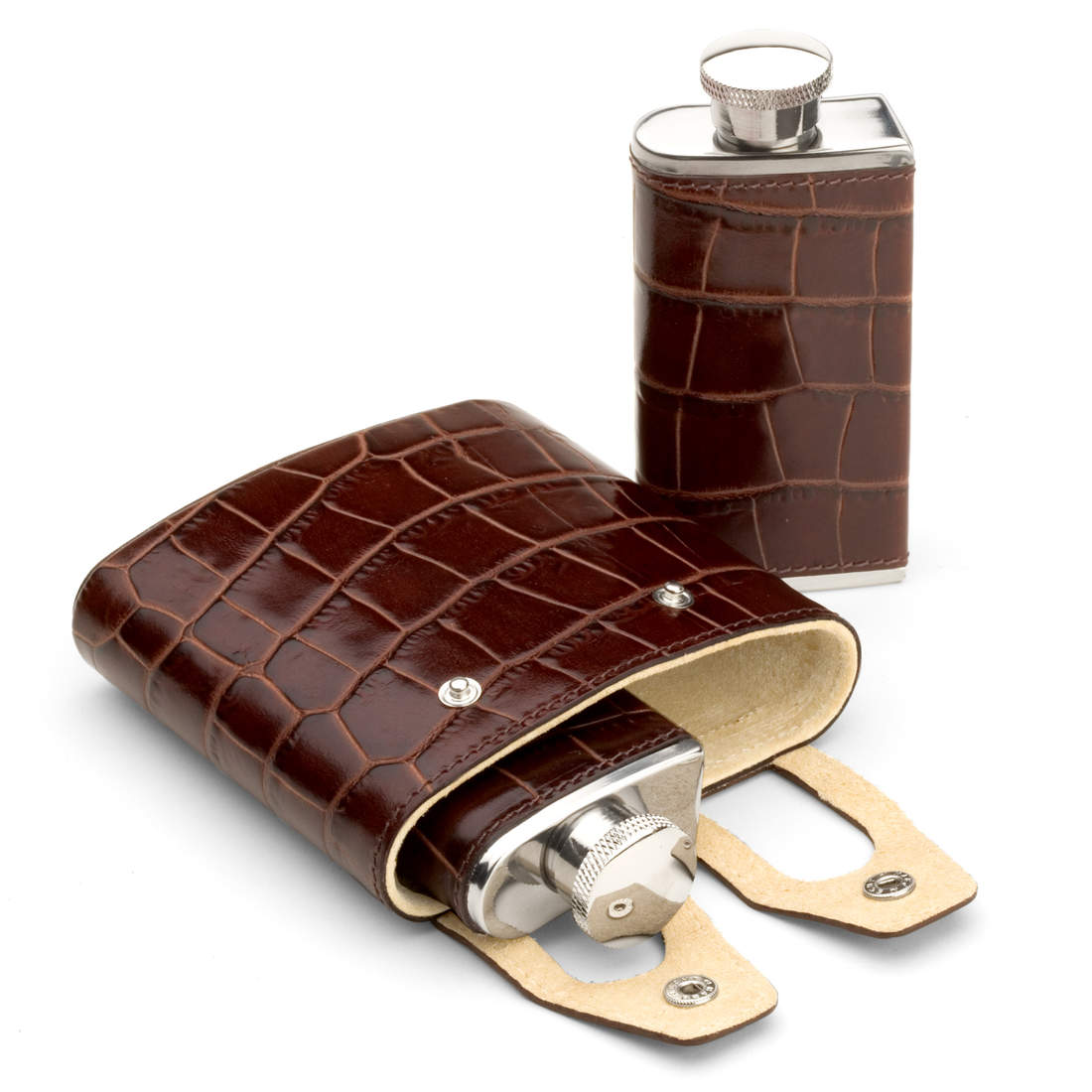 Aspinall of London's Double 6 oz Leather Hip Flask in deep brown croc shine resembles the 1928 flask advertised from Mappin & Webb. A sterling choice.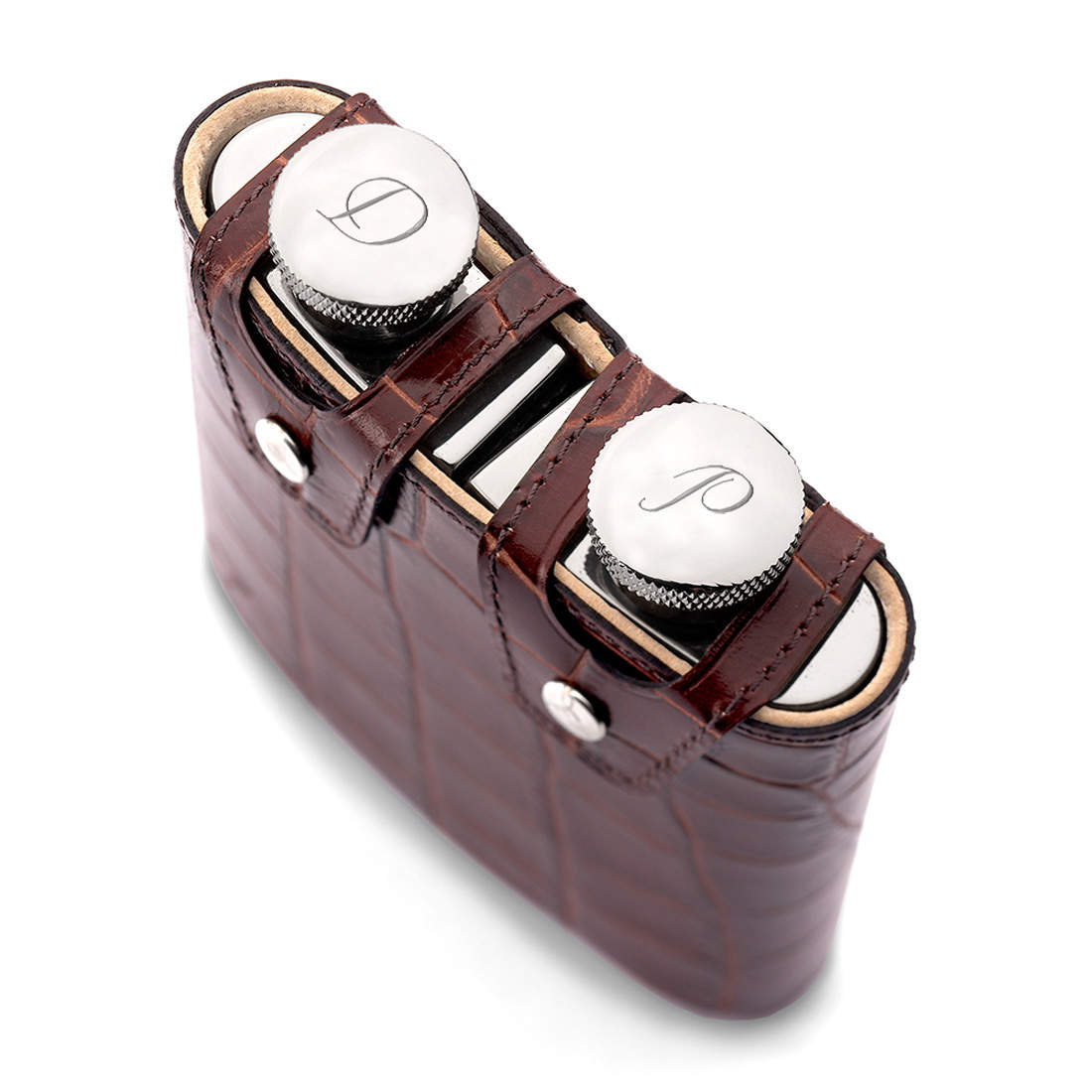 If chosen, I recommend the personalised engraving. Enter "BESPOKED" at the checkout for complimentary engraving of upto 4 characters (worth £25). Their gift box is £5.
Hand Soap
Penehaligon's luxurious triple-milled soap produces a lovely lather. Amazing what one notices during a lockdown. Lady readers may want to make this a joint purchase. The Quercus citrus fragrance is inspired by English oak – fresh zest, wet moss and earthy patchouli.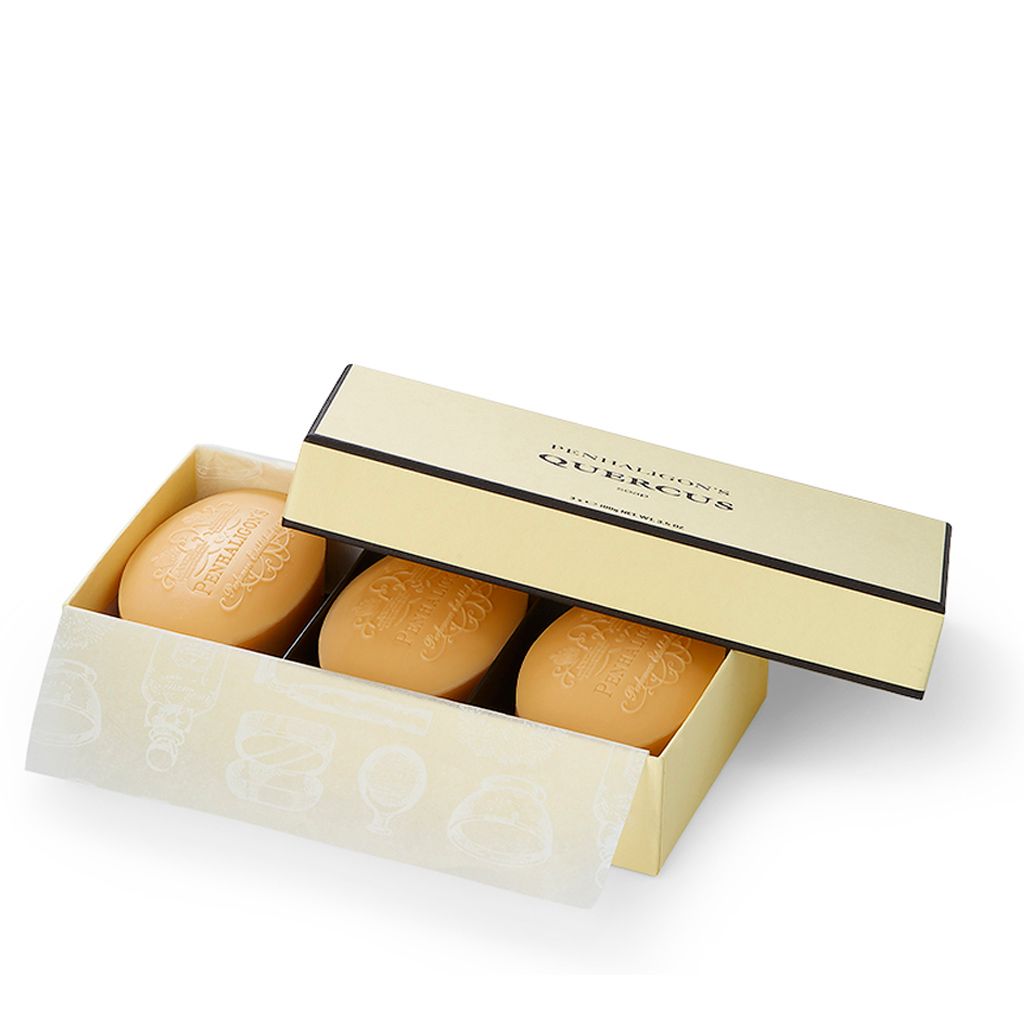 Halfeti soap has a heady wooden scent of spiced rose, oud and amber. The scented bath soap – triple-milled for an exquisitely rich lather. Perfect for that 2nd national lockdown relaxation time after the stress of hosting Christmas with your support bubble.
Men's Socks
Only one recommendation for socks this year. The London Sock Company stock the best gift sets. I was gifted the Man About Town 6 pair set for my birthday.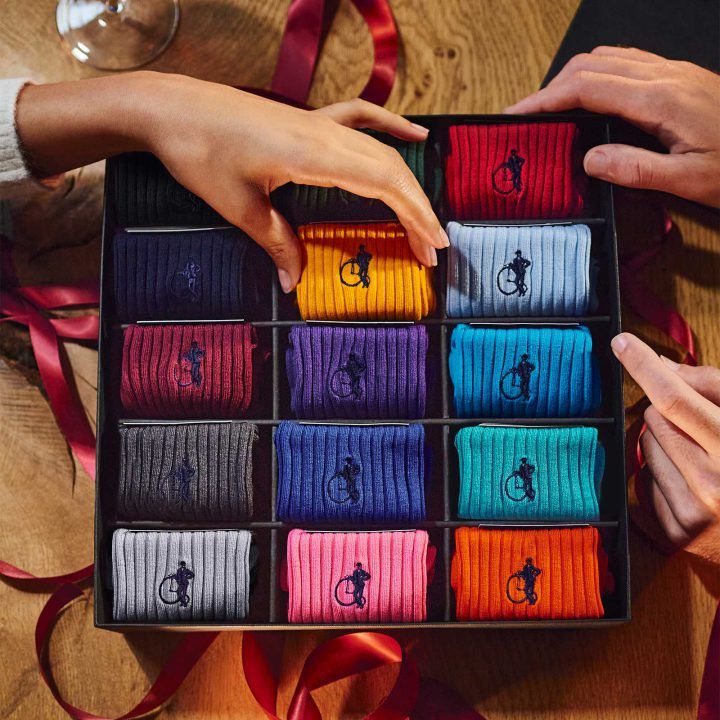 Ladies, their Shaken & Stirred 6 Pair set and Sartorial Collection 15 Pair set will put a smile on your gentleman's face as he reaches for his sock drawer. Both sets include free delivery worldwide. If you sign up to their newsletter, you'll receive 15% off. The lovely chaps are also donating two pairs for every pair bought to a charity of your choice.
Men's Gloves
Dents Gloves
Dents have have been established since 1777, almost as long as American Independence. The Bond Wardrobe team chose Dents leather black gloves for the final outdoor scene at the end of Skyfall. Readers who have experienced swashbuckling photoshoots around the City of Westminster– which included the red double decker bus shot may recall the location.
N. Peal
N. Peal, have supplied 007 for decades. Daniel Craig's wore the now famous black turtle neck in Spectre's official movie poster. They also stock the gloves filmed in Her Majesty's Secret Service. The discreet 007 button and gift packaging is on point.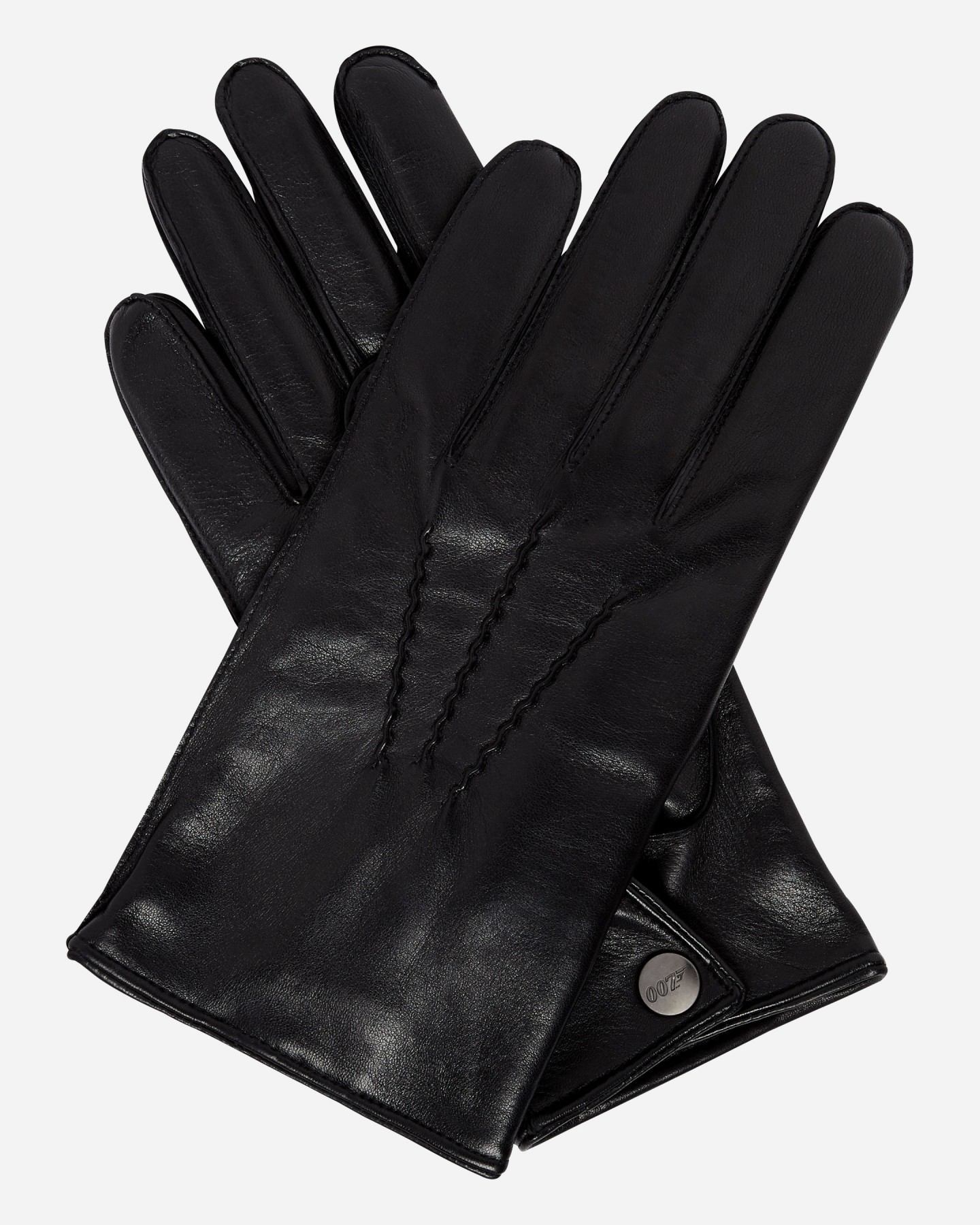 Whilst known for their bespoke shirt-making, our friends Turnbull & Asser also produced gloves for hunting, evening-wear and dancing. This advert illustrates their promotion of accessory pieces to shirts. T&A's telephone number was much easier to remember then.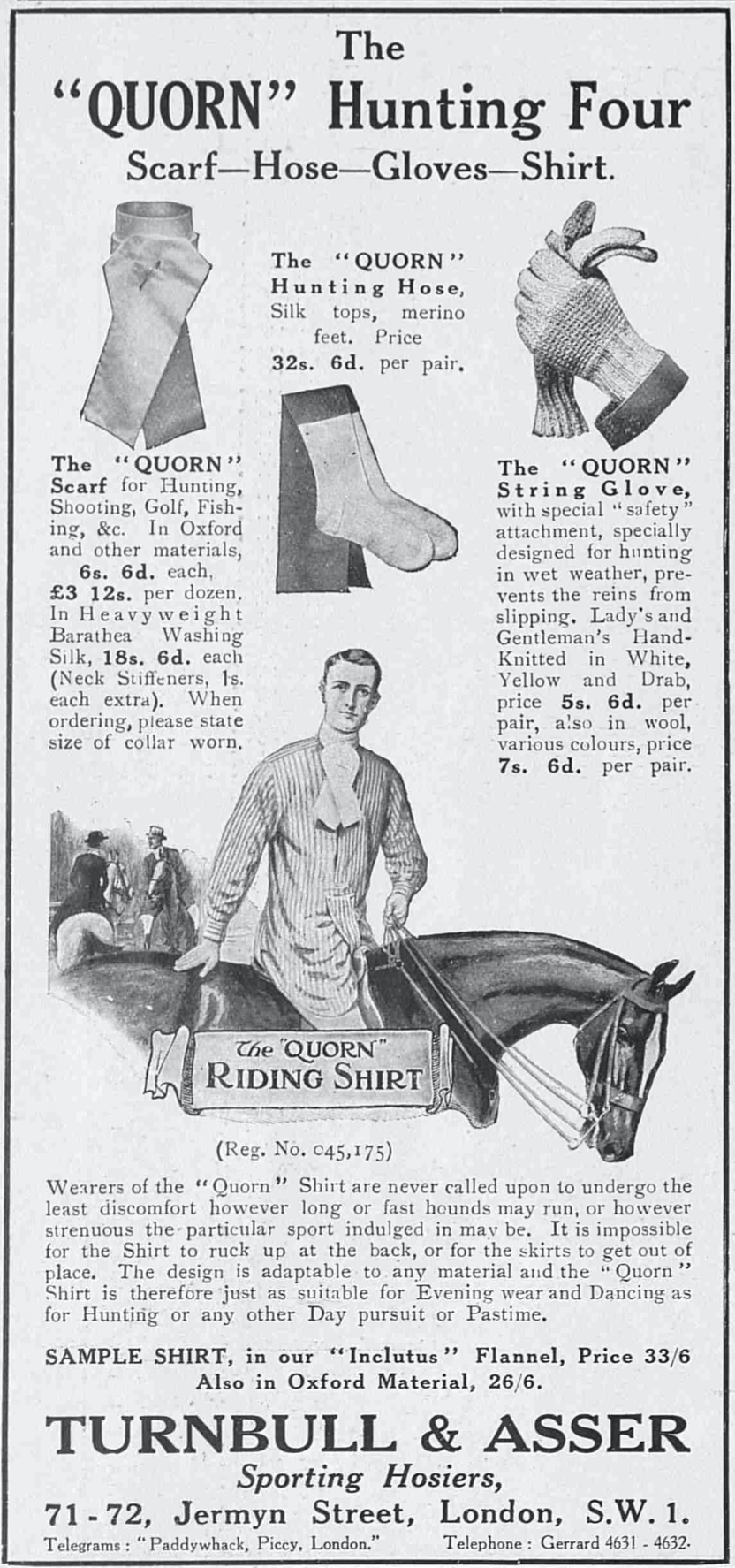 Men's Hats
The days when the general public wore bowler and top hats to work have long gone. Woodrow Hatters resided opposite Fortnum & Mason on Piccadilly. Today they are sought after collectables sold at auctions.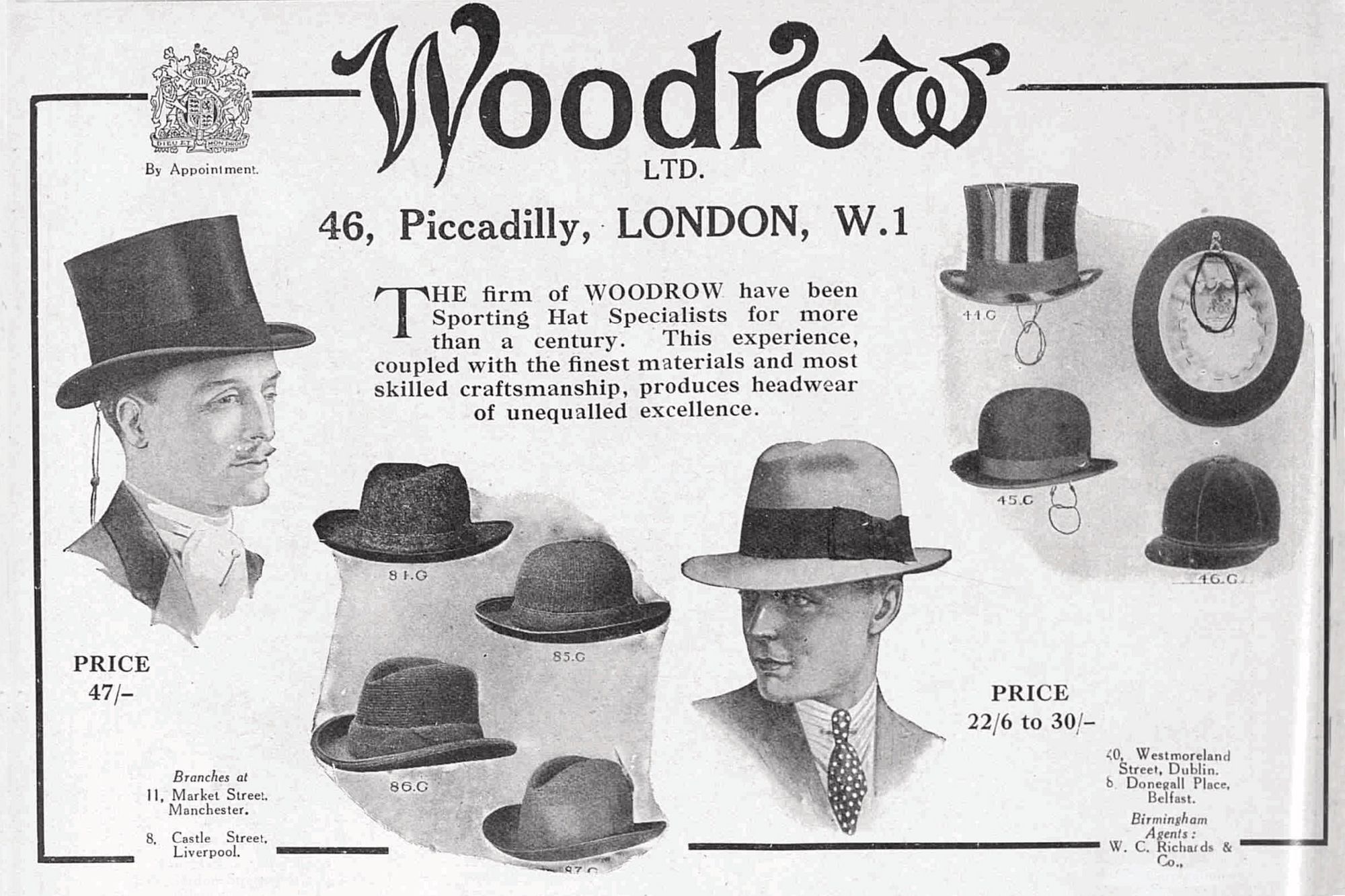 H.J. Nicol were nearby on 146 Regent Street, which runs parallel to Piccadilly. The premises is now Mango's flagship store.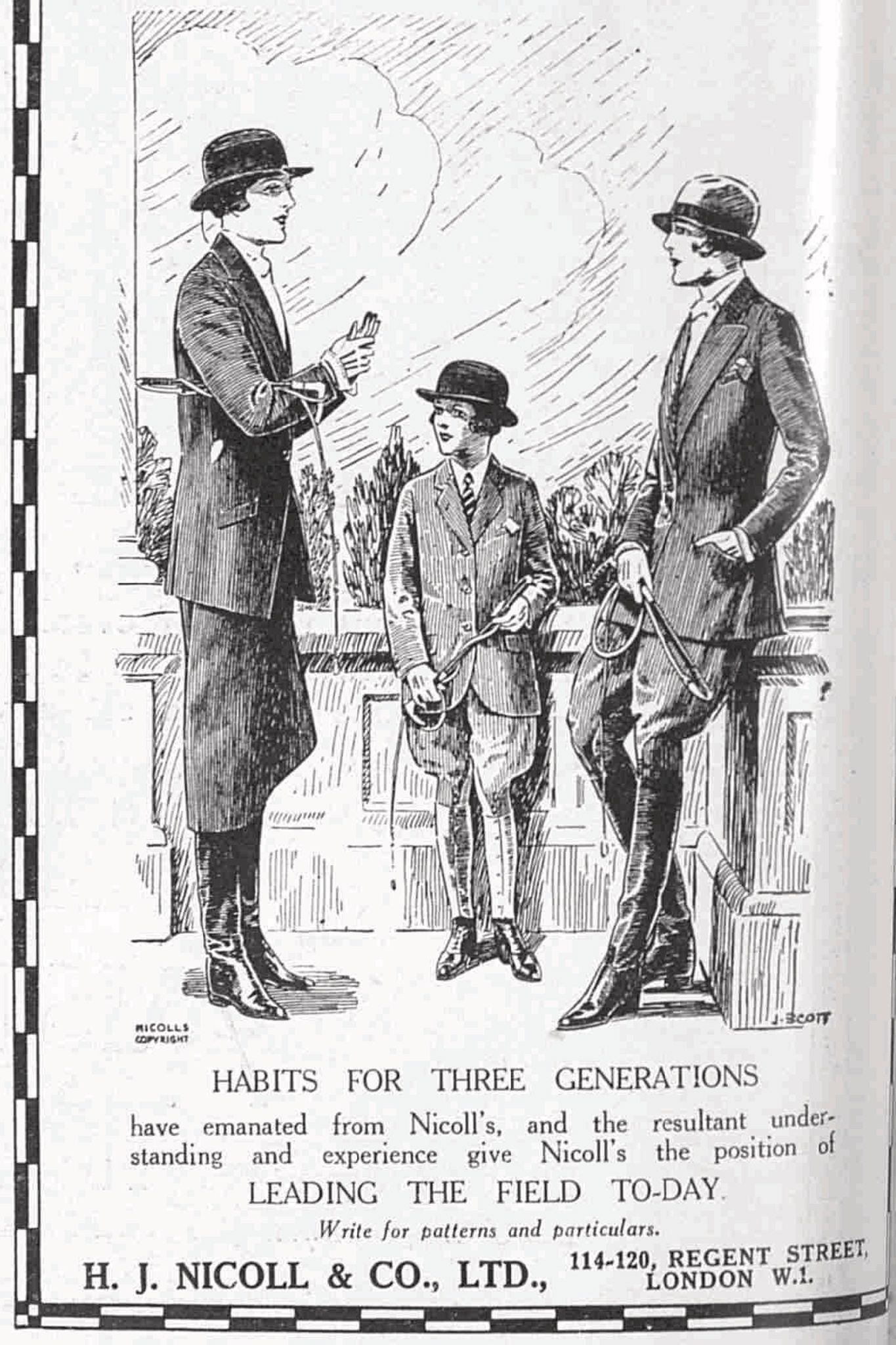 Locke & Co. hatters go so as far back 1676, along with the creation of St James's district. Admiral Nelson, Oscar Wilde and Charlie Chaplin are listed in their ledgers.
More recently, thanks to their glamorous couture designs – Jacqueline Kennedy and today's big screen stars are customers. Their creations are the talk at high society events.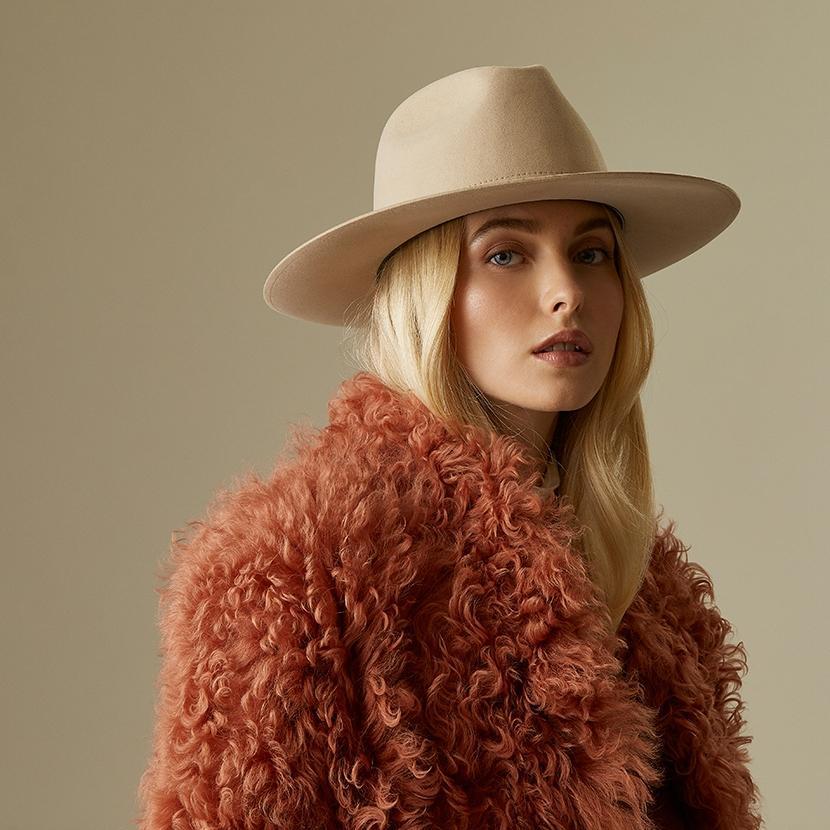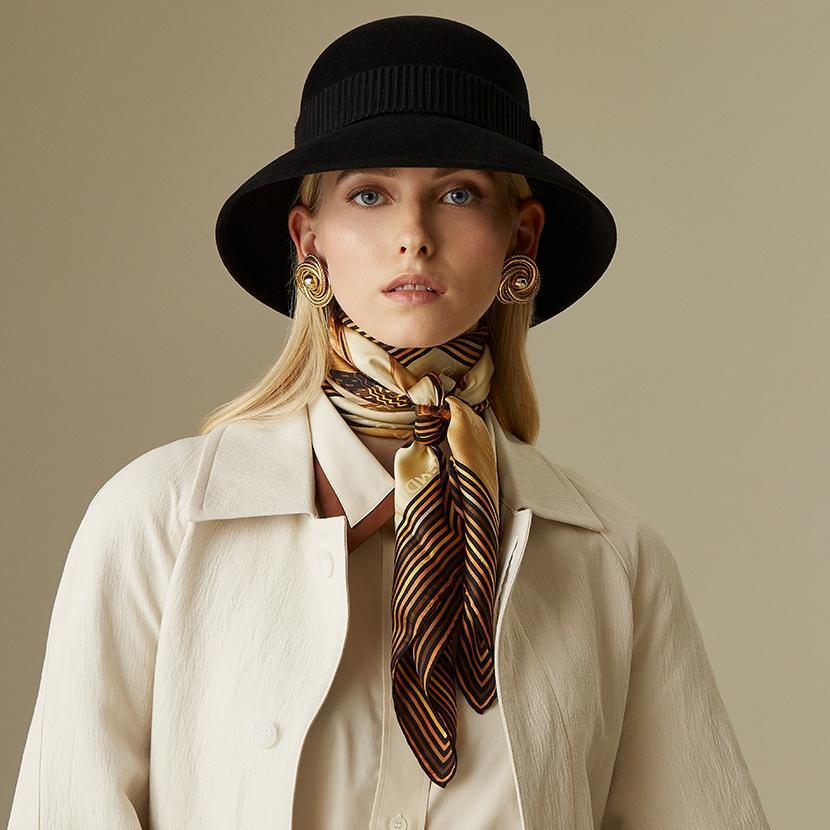 Gentlemen, fear not, they also stock an everyday range suitable from smart casual, Panama's to the famed Top Hat.
A visit for a personal fitting for a Panama is a fun experience. See how hatters measure for each head and shape below:
How to Measure Hat Size
Use a soft tape measure.
Place it around your husbands head. Position mid forehead, just above his ears. Comment on his (big) head or choice of perfume depending on mood.
Measure and record in both centimetres and inches.
Ask husband politely to measure your head. Be prepared for verbal retaliation. (See point 2).
Use table below to find your hat size for US and UK fittings.
Men's Coats
"A gentleman buys his hats at Locks, his shoes at Lobbs, his shirts at Harvie and Hudson, his suits at Huntsman and his cheese at Paxton & Whitfield." Winston Churchill
Harvey & Hudson reside on the corner of Jermyn and Duke of York Street. Originally trading on Bury Street near Turnbull & Asser. Their present location intersects St James's Square affluent corporate foot-flow (BP, Rio Tinto Headquarters), St James's Church and Piccadilly. Their Covert Coats are of keeping with Jermyn Street artisans.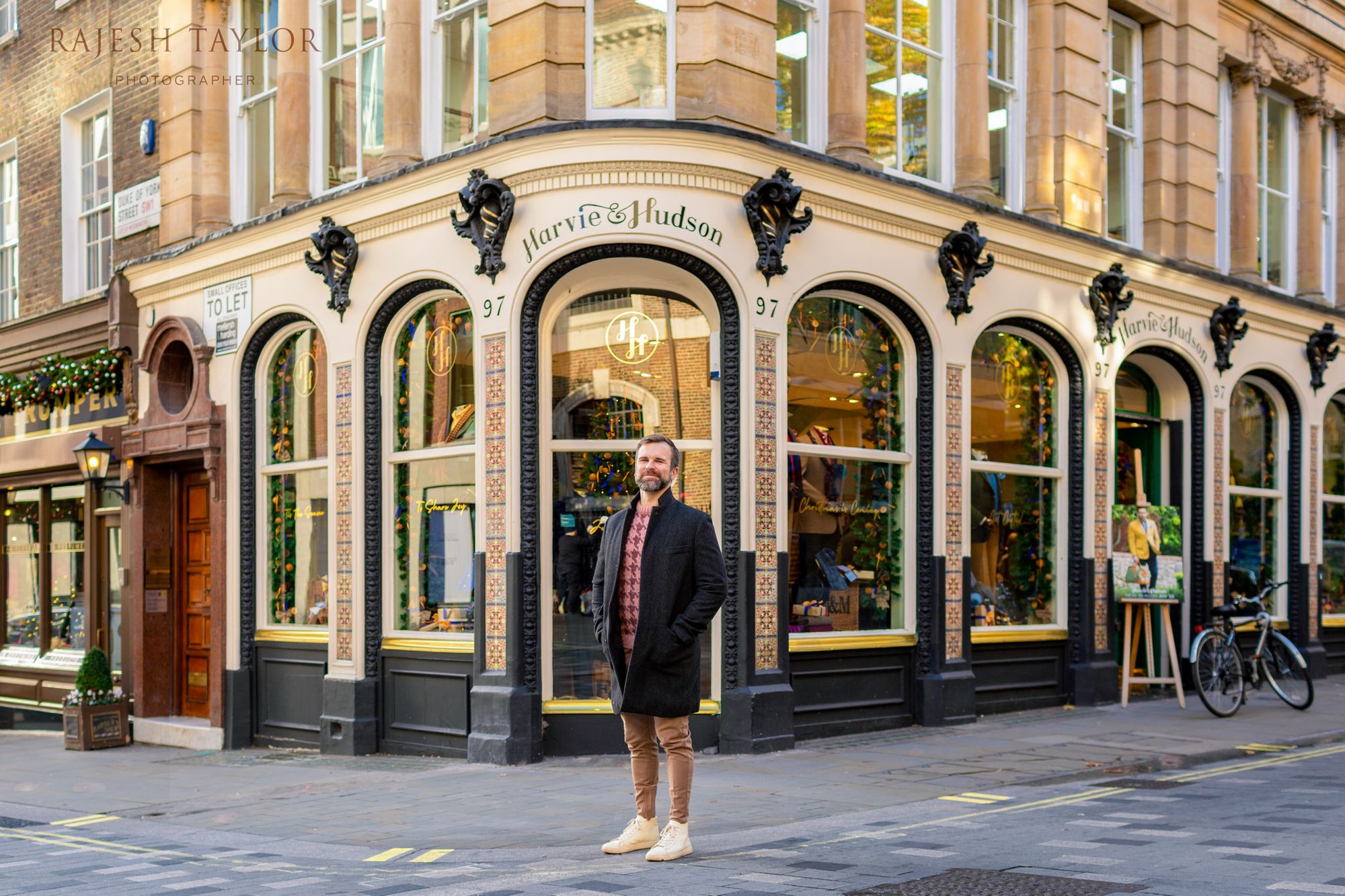 Well proportioned on the shoulders, with sleeves tailored for gentlemen who prefer not to give the false impression their arms drop down past the knees. They also have the best looking window displays on the street.
References:
• The Bystander Newspaper, British Newspaper Archive.
• Skyfall clip from Danjaq © and MGM ©
To receive a weekly roundup of new posts subscribe here. Any donations go towards funding research, reporting, independant video servers and growing the site. Thank you, Rajesh.
Bitcoin Wallet: 3Dzp87Gz7EhtQpHSYCBTSMN81GMeCQgAtm
Leave a Paypal Tip